BEIJING -- China will loosen controls on its currency gradually and should step up development of financial tools such as derivatives to help banks and companies cope with a more flexible exchange-rate system, offcial from the People's Bank of China said Sunday.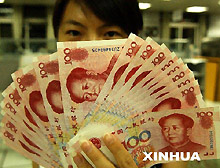 China needs to develop new financial tools and enhance financial reform to help remove the burden on its financial system,said the official from Central Bank.[Xinhua]
China will "improve the yuan's flexibility gradually," Su Ning, deputy governor of the People's Bank of China, said at an economic conference in the eastern city of Suzhou, Jiangsu Province at the weekend, Bloomberg News said.
"China needs to develop new financial tools and enhance financial reform to help remove the burden on its financial system," Su said.
A record trade surplus has flooded the world's fourth-largest economy with cash, spurring investment in factories and real estate that the government is concerned may lead to overcapacity and bad loans. Foreign-exchange reserves have surged to almost 1 trillion U.S. dollars, fueled by exports that the United States and Europe say are supported by an undervalued currency.
China has limited gains in the yuan to 2.6 percent since dropping a decade-old peg to the US dollar in July last year. The currency strengthened 0.1 percent to 7.9025 to the dollar on Friday, according to the China Foreign Exchange Trade System.
Chinese officials have said repeatedly that the yuan's exchange rate will be loosened only gradually because the nation's banks and companies aren't prepared to cope with a free-floating currency. China has been introducing derivatives such as interest-rate forwards and swaps to provide tools to hedge risks, and plans to add interest-rate and stock-index futures.
The government should step up reform of the nation's banks including Agricultural Bank of China, Su said. The Beijing-based lender is the last of the big four state-owned banks awaiting restructuring and a government bailout.
Agricultural Bank is close to completing a plan to create a shareholding company, the Xinhua news agency reported last week, citing central bank Governor Zhou Xiaochuan. The government may inject 100 billion dollars into the bank, the agency said.
Industrial & Commercial Bank of China, the nation's biggest lender, raised 19.1 billion dollars in the world's biggest initial public offering, bankers involved in the IPO said. Bank of China Ltd and China Construction Bank Corp have also listed in Hong Kong in the past year.