For a diplomat, wherever he works, the job will be a mixture of happiness and hardship.
But despite his difficulties in the continent, Foreign Minister Li Zhaoxing looks back on his time in Africa fondly.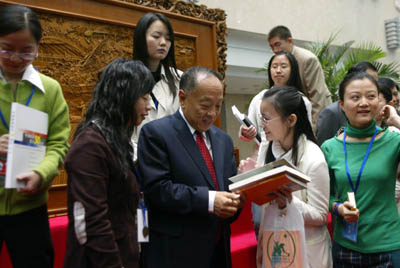 Foreign Minister Li Zhaoxing signs a book when receiving a group of students visiting the ministry on Saturday. [newsphoto]
Li can still remember the beautiful Kenyan landscape, where he spent seven of his nine years in Africa, and the pain of malaria, which he caught while living there.
Talking to a group of university students on Saturday, Li revealed his ongoing love and support for Africa.
He said that despite the continent's tough living conditions, Africans had genuine and sincere feelings towards the Chinese, and he greatly enjoyed living there.
"We can never forget the help the African people have given us, and our two peoples have forged a deep friendship over the past 50 years," said Li, noting the significant support African nations had given China in resuming its United Nations seat in 1971.
Li has been to 47 of the 53 African nations and plans to continue working to strengthen the continent's bonds with China.
This year is memorable in the history of China-Africa relations, marking the 50th anniversary of the establishment of diplomatic ties between China and African countries.
And Beijing will hold the China-Africa Co-operation Forum next week, a grand gathering attended by more than 40 African leaders.
Li offered the students the chance to work as volunteers at the summit, ensuring the meeting runs smoothly.
He also called on Chinese people to seek common development and prosperity with their African friends, deepening and consolidating the traditional friendship between Africa and China.
Well-known as a "poet diplomat," Li concluded his African discussion with a verse in Chinese: 'making true friends on an equal footing and modelling oneself with a manner of honesty.'
Li, who has served as a diplomat for 43 years in the Foreign Ministry received about 180 university students from 12 universities on Saturday, the ministry's open house day.