XI'AN: A man who murdered 10 people at a temple in July was sentenced to death on Thursday at Ankang Intermediate People's Court in Northwest China's Shaanxi Province.
Qiu Xinghua, 47, who later killed another person and injured two more, had 5,000 yuan (US$625) of personal property confiscated as compensation for the relatives of the victims.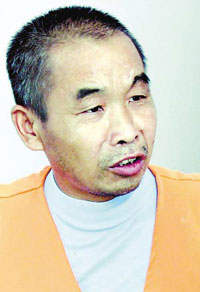 Qiu Xinghua

Upon hearing the verdict, Qiu said he would appeal, adding: "I am so sorry for the victims and their relatives. I really regret it and hope society will not discriminate against my family."

The case has attracted huge public attention, both for the brutality of the slayings, and the fact that Qiu had no previous record of criminal activity or mental health problems.

The local procuratorate charged that between June 18 and July 2, Qiu and his wife He Ranfeng went to the local Tiewadian Temple on two occasions.

Qiu argued with Song Daocheng, a temple manager, who stopped him from moving two objects.

"Qiu thought Xiong Wancheng, the chief of the temple, took liberties with his wife during their stay at the temple, and so he angrily made a plan to kill the people there and destroy the temple," Li Decai, public procurator of the People's Procuratorate, read in the indictment.

On July 14, Qiu returned to the temple and killed all 10 people there in the middle of the night with an axe. The victims, nine males and one female, aged between 12 and 62, included Xiong and Song. On the night of July 15 Qiu burnt the temple to the ground and escaped, the indictment said.

On July 31, Qiu injured a farmer named Wei Yikai and his wife Xu Kaixiu and daughter Wei Jinmei in Suizhou, Hubei, a neighbouring province of Shaanxi, near Qiu's home town. Wei died of serious injury on September 9, Li said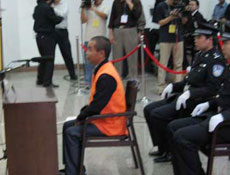 Qiu Xinghua stands the trial in a court in Ankang, Shaanxi province in northwest China October 19, 2006. He was sentenced to death in the hearing of the first instance. [huashphoto]

Qiu also stole 1,302 yuan (US$163) from Wei, the procurator said.

Prosecutors indicted Qiu on charges of intentional murder and robbery. With a large number of witnesses and physical evidence, Qiu confessed to the crimes.

According to Zhao Xiaoxu, the presiding judge and vice-president of the court, the collegiate bench found that the facts were clear and there was ample evidence.

Zhang Yong, Qiu's lawyer, said that although his client was charged with 11 deaths, the law stipulates that all people have the right to appeal.

"I met with Qiu twice before the trial, and I found that his mind was very clear and he wrote a defence of his own. I think the evidence provided by local procurators was very clear," Zhang said.

According to a court source, no relatives of Qiu or the victims attended the trial.

"But we arranged for Qiu to meet with his son Qiu Donghai on Wednesday.

He told his son to study hard and be a good man," said Qin Kangjian, director of Ankang Public Security Bureau.

According to a local newspaper Chinese Business View, Qiu Donghai said that his father looked healthy and was writing his life story.

"He has written dozens of pages, describing his poor life and various tough experiences," Qiu Donghai was quoted as saying.

Qiu was arrested by local police on August 19, 35 days after the temple killings.