China's former top statistician, Qiu Xiaohua, is suspected of involvement in the Shanghai pension fund fraud, the National Bureau of Statistics (NBS) said yesterday.
In the first official explanation for Qiu's sudden sacking a week ago, NBS spokesman Li Xiaochao yesterday told a news briefing that the 48-year-old former bureau chief was being investigated.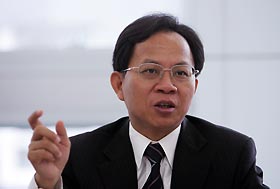 Commissioner of the National Bureau of Statistics Qiu Xiaohua gestures during an interview at the Reuters China Century Summit in Beijing in this September 5, 2006 file photo. [Reuters]

An investigation into the Shanghai social security fund scandal found that Qiu was "suspected of severely violating disciplines," Li said.

The pension fund scandal led to the sacking of the municipality's top Party official Chen Liangyu last month.

The State Council removed Qiu from the NBS post on October 12, replacing him with Xie Fuzhan, former deputy director of the Development Research Centre of the State Council, a cabinet think tank.

Qiu had taken up the post only seven months earlier.

Qiu, 48, graduated from the Economics Department of Xiamen University in 1982.

He served as chief economist and NBS spokesman between 1993 and 1998 and was appointed deputy director in 1999 before being elevated to director in March.

In Shanghai, a massive corruption probe seems to have widened to the sporting world after the head of the city's Formula One (F1) Grand Prix Circuit was reportedly summoned for questioning this week.

Yu Zhifei, general manager of Shanghai International Circuit Co, which hosts the Chinese Grand Prix, was being questioned mainly because the race track was built earlier this decade without requisite permission from the Ministry of Land and Resources, Shanghai Securities News reported yesterday, citing unnamed sources.

The Shanghai track had a price tag of about US$350 million, including associated costs, making it the world's most expensive F1 raceway.

Company officials declined to comment on the report yesterday.