Former China NBS head under investigation
(Xinhua)
Updated: 2006-10-19 15:55
Former head of China's National Bureau of Statistics (NBS) Qiu Xiaohua is suspected of involvement in the Shanghai social security fund fraud and is being investigated by disciplinary departments, a NBS spokesman said Thursday.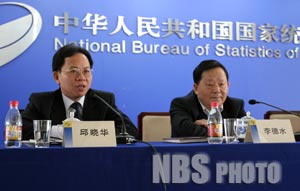 Qiu Xiaohua (L) was named director of the National Burea of Statistics, replacing Li Deshui (R) in March 2006. [nbs/file photo]
Li Xiaochao, NBS newly appointed spokesman, said at the bureau's quarterly press conference that Qiu was found to "have seriously violated disciplines" in the Shanghai social security fund case.
The case made headlines in September and led to the removal of Chen Liangyu from the post of secretary of the Shanghai Municipal Committee of the Communist Party of China (CPC).
Qiu was dismissed from his post of NBS director on Oct. 12. He had taken up the post just seven months earlier, replacing Li Deshui.
Born in 1958, Qiu is a native of southeast China's Fujian Province. He was graduated from the department of Economics of Xiamen University in Fujian in 1982.
He served as chief economist and NBS spokesman between 1993 and 1998 and was appointed deputy director in 1999.
Xie Fuzhan, previously deputy director of the Development Research Center of the State Council, was appointed new NBS director.
Xie promised self-discipline when making his first public speech at a symposium on Oct. 13, emphasizing the NBS will redouble efforts to "improve the Party's work style and build a clean government."