Vice premier: Cross-Straits agricultural cooperation promising
(Xinhua)
Updated: 2006-10-19 09:47
BEIJING -- Cross-Straits agricultural cooperation has a promising future and it should be promoted, said Vice Premier Wu Yi on Wednesday.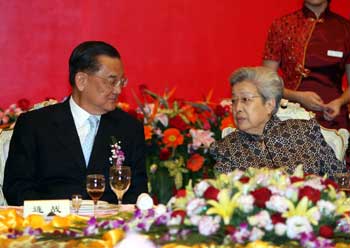 Chinese Vice Premier Wu Yi (R) talks with Chinese Kuomintang (KMT) Honorary Chairman Lien Chan at a banquet in Xiamen, southeast China's Fujian Province, Oct. 18, 2006. Wu held the banquet Wednesday night in honor of the representatives of the Cross-strait Agricultural Cooperation Trade Fair. [Xinhua]
Wu made the remark at a reception banquet with a delegation from Taiwan headed by Kuomintang (KMT) Honorary Chairman Lien Chan, who arrived in Xiamen on Wednesday to attend a cross-Straits agricultural cooperation trade fair on Oct.19 and 20.
She said agricultural cooperation is an important part of cross-Straits economic relations and that the forum held in Hainan Province on Tuesday was a success.
She hoped the trade fair would bring along more exchanges and cooperation in agriculture between the mainland and Taiwan.
As a major part of the forum, the trade fair will provide a platform for the two sides to expand cooperation in agriculture. The fair is expected to attract more than 4,000 people.
During his stay in Hainan, Lien visited Taiwan-invested agricultural firms and met with Taiwanese business representatives.
The 20 proposals passed at the forum include incentives to Taiwanese farmers and agricultural enterprises to invest in the mainland. Those who do so will be granted favorable treatment with regards to project approval, land use, infrastructure development, financial support and quarantine measures.