GUANGZHOU: After almost 50 years as the Chinese Export Commodities Fair, the "Canton Fair" is about to get a new name.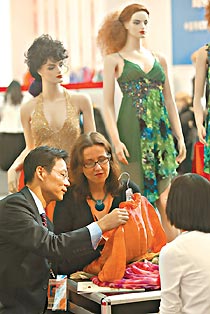 Russian Ambassador to the United Nations Vitaly Chirkin (L) and Chinese Ambassador to the U.N. Wang Guangya shake hands before a Security Council vote at the U.N. headquarters in New York October 14, 2006. [China Daily]

Attending the opening ceremony of the 100th session in the southern metropolis of Guangzhou, Premier Wen Jiabao announced that next year the event will be called the "Chinese Import and Export Commodities Fair."

"The change aims to help the country achieve a basic balance between imports and exports, in a bid to adapt to the new international trade situation," he said.

China's trade surplus reached a record US$101.9 billion in 2005, which resulted in increasing complaints and trade conflicts.

The move marks a change in China's economic strategy, according to Zhang Yansheng, director of the Institute of International Economic Research.

"It (the name change) indicates that China is making massive efforts to transform itself from an export-oriented economy into an open economy emphasizing exports, imports, and domestic demand."

Although practical details remain to be worked out, there was optimism at the fair that it would facilitate access to the Chinese market,

"We believe when imports are involved in this event it will be a new platform for us to boost our company's import business," said Zhang Wenyuan of Genertec Technology Group.

The company is a State-owned business dealing mainly with imports of key and large-scale equipment and technology. While it attends the fair, exports only account for a small proportion of its turnover.

Wen said the fair had played an important role in China's exports over the past 50 years, making it the largest trade fair in China in terms of turnover, visitors and exhibitors.

The first "Canton Fair" back in 1957 attracted just 1,200 overseas buyers from 19 countries and regions, mostly from Hong Kong, Macao and Southeast Asian countries.

The two sessions in 1957 contracted deals worth US$86.87 million, accounting for one fifth of the country's foreign exchange income.

The event now attracts 190,000 buyers from more than 210 countries and regions to each session, with a turnover totalling US$30 billion.

With 31,408 standard booths and a total exhibition space of 282,000 square metres, the 100th fair is expected to attract 50 trade delegations and more than 14,000 enterprises from China, and over 200,000 overseas buyers.