Plans ranging from space walks to new navigational systems will underscore China's space programme in the next five years. But officials insisted yesterday that the high goals carry a low price tag.
"The manned space programme is progressing well," said Sun Laiyan, chief of the China National Space Administration. "We will enable astronauts to engage in space walks and conduct spacecraft rendezvous and docking which are anticipated in 2008."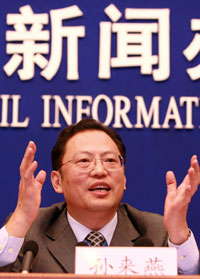 Sun Laiyan, head of China National Space Administration, speaks during a news conference on the nation's space plans in Beijing October 12, 2006. Xinhua]

The official was speaking at the release of "China's Space Activities in 2006," a policy document published by the State Council Information Office to mark the country's development in the past few years and its ambitions for the near future.

Sun said the candidates to fly the Shenzhou VII mission have been under training since Shenzhou VI carried two men into orbit for five days in October 2005.

The final selection of the astronauts will be made shortly before the launch, he said.

China will also send women astronauts, scientists, philosophers and even journalists into orbit in the future, Sun said.

He said China's manned space activities were still at the experimental stage, but space tourism might begin once technology matures.

The country has not made a plan for a Mars probe, though some Chinese scientists and engineers are doing some preliminary studies on the ground, Sun said.

China wishes to conduct relevant deep-space exploration through international co-operation, the official said.

The official defended the cost of the space programme, which he described as very low. Also, the programme has benefited many people.

As a developing country, China has given economic development and rural revival priority. For this reason, the country's budget for space programme has been lean.

"I know that the National Aeronautics and Space Administration of the United States has budgeted nearly US$17 billion for civilian space projects for 2007," Sun said. "Ours is far less than one-tenth of that."

He revealed that on the four unmanned and two manned spacecraft China launched since November 1999 the country spent a total of about 20 billion yuan (US$2.5 billion).

The ongoing first phase of the lunar exploration project will cost slightly more than 1 billion yuan (US$125 million), which includes sending a satellite next year to orbit the moon at an altitude of 200 kilometres to explore the environment and atmosphere between the Earth and the moon, Sun said.

Money spent on the space undertaking can help resolve a host of economic and social problems China confronts, he said.

For example, before 1984, when China had no geo-stationary communications satellites, it would take at least a week for remote parts of China such as Yunnan Province and the Xinjiang Uygur Autonomous Region to get news from China Central Television.

A new direct broadcasting satellite, SinoSat II, to be launched by the end of this month, will enable every farming household to receive TV signals using a small dish, thereby bringing educational programmes and even remote medical service, Sun said.

Besides using satellite monitoring to help mitigate natural disasters, the country has also launched and retrieved a special satellite to help farmers cultivate special strains of crops, he added.