Russia, China oppose North Korea sanctions
China said yesterday that the United Nations Security Council should take well-measured action in response to the current situation on the Korean Peninsula. (Full Coverage on North Korea Nuclear Crisis )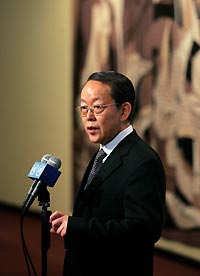 China's ambassador to the United Nations Wang Guangya speaks to reporters after a security council meeting at UN headquarters in New York October 12, 2006. The Security Council met to discuss a possible resolution to the North Korean nuclear situation.[Reuters]

"It's necessary to express clearly to the Democratic People's Republic of Korea (DPRK) that the nuclear test is the wrong practice and that the international community is opposed to this nuclear test," Foreign Ministry spokesman Liu Jianchao said at a regular briefing.

But he said "punishment should not be the purpose" of any action taken by the United Nations in response to the test.

"The measures taken (by the UN) should be conducive to the denuclearization of the Korean Peninsula and to bringing about peace and stability on the Korean Peninsula and the resumption of the Six-Party Talks," Liu said.

The United States was pushing yesterday for a new UN resolution on the DPRK.

The draft adds a travel ban for the DPRK and uses softer language on cargo inspections and financial sanctions. The United States hopes the Security Council will pass the resolution today.

The Japanese were lobbying for a tougher UN resolution that would include a prohibition on DPRK ships entering any port. Japan also wanted to ban DPRK aircraft from taking off or landing in any country.

The DPRK yesterday issued a warning to the United States.

"If the United States increases pressure upon (the DPRK), persistently doing harm to it, it will continue to take physical countermeasures, considering it as a declaration of a war," Ri Kyong-son, vice-spokesman for the DPRK's Foreign Ministry, said in an interview with APTN in Pyongyang.

Liu called on the DPRK yesterday to stop any action that may "further worsen the situation."

Liu said China is consulting with other parties and hopes the consultation will be conducive to furthering diplomatic efforts.

Regarding the US resolution to the Security Council, Liu said: "Any action, any decision, any resolution, must be conducive to resolving the issue peacefully."

He also repeated China's call on the DPRK to return to the Six-Party Talks.

The six-nation talks on the Korean nuclear issue has remained stalled since the last round in Beijing last November.

Following DPRK's nuclear test on Monday, China has been engaged in a string of diplomatic activities.

| | | |
| --- | --- | --- |
| 1 | 2 | |