Beijing has appointed two new vice-mayors in a move expected to further facilitate the capital city's development.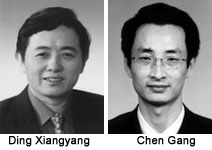 Ding Xiangyang, former director of the city's commission of development and reform, and Chen Gang, former director of the city's urban planning commission, are both well-trained in their fields.
Zhang Mao, the former vice- mayor in charge of development and reform, culture and foreign affairs, was moved and became the deputy director of the State Commission of Development and Reform in June.
Liu Zhihua, the former vice- mayor in charge of urban planning, real estate and sports, was sacked for his alleged "dissolute way of life and corruption" in the same month.
Now he is under investigation for charges including corruption.
The two new vice-mayors were appointed on Tuesday during the 31st meeting of the 12th Beijing Municipal People's Congress Standing Committee, the local legislature.
Born in Northeast China's Liaoning Province in 1949, Ding has a master's degree in engineering science. He has worked at the former Ministry of Coal Industry, the Ministry of Energy and the General Office of the State Council.
Wang Qishan, mayor of Beijing, described Ding at the Tuesday meeting as well-informed in macroeconomics and creative with integrity and political standing, reported the Beijing News.
Chen Gang, the other new vice-mayor, was born in 1966 in Central China's Hubei Province. He has a master's urban planning degree from Tsinghua University.
He was assistant mayor in Liuzhou in Guangxi Province before being assigned to the Beijing Urban Planning Commission.
Mayor Wang Qishan described Chen as a solid professional with a pioneering spirit, and as someone who has achieved a lot in his field.
The two appointments seemed popular with many.
"Ding is decisive and does well integrating all sources of wisdom to benefit the city. His leadership of the commission contributed a lot to the reform of public services and infrastructure sectors, and to the development of less advanced areas in the suburbs and south Beijing," an official with Ding's former commission, who wanted to remain anonymous, told China Daily.
The official also said Ding has a lot of good experience in ministry work and development issues, which will help him in his new post.
Chen Gang was also praised by colleagues for his solid professional training, down-to-earth attitude and low-key style when facing the media, reported the Beijing News.