Invasions 'caused great damage'
Contact helps overcome misconceptions
PM's wife wows Beijing students
President Hu Jintao yesterday urged Japan to correctly recognize and properly handle historical issues to avoid hurting the feelings of victimized countries.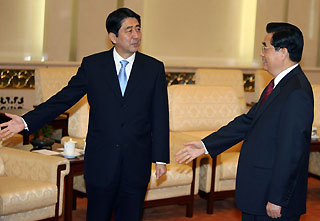 Japanese Prime Minister Shinzo Abe (L) introduces his entourage to Chinese President Hu Jintao at the Great Hall of the People in Beijing October 8, 2006. [Reuters]

Hu made the remark when meeting Japan's new Prime Minister Shinzo Abe in Beijing. Abe was making an official visit to China, the first by a Japanese leader in five years.

Bilateral relations soured after Abe's predecessor Junichiro Koizumi repeatedly visited the Yasukuni Shrine which honours 14 convicted war criminals from World War II along with the country's war dead after he took office in 2001.

Describing Abe's China visit as "a turning point in China-Japan relations," Hu said he hoped it would also serve as a new starting point for the improvement and development of bilateral ties.

"Sino-Japanese relations face difficulties because some Japanese leaders insist on visiting the Yasukuni Shrine, where war criminals are honoured," Hu said. "This is not what we want to see."

Abe, 52, became the first Japanese prime minister born after World War II on September 26. His China visit was made possible when the two countries, after he took office, reached consensus on overcoming "political obstacles" affecting bilateral ties and promoting Sino-Japanese relations.

Hu spoke highly of Abe choosing China as his first overseas destination as prime minister, saying it indicated Abe values the improvement and development of bilateral relations.

Abe has remained vague about whether he would pay homage to the shrine in an official capacity now he is prime minister. But he assured Hu that the Japanese side and he himself would handle the history issue properly, in accordance with the consensus reached by the two countries on removing political obstacles affecting bilateral ties and promoting sound and stable relations.

He noted that Japan had brought great damage and suffering to Asian people in the past. "While expressing deep remorse for history, Japan will adopt a policy of peaceful development," Abe said.

Hu said China hopes Japan can continue to move ahead as a peace-loving country and play a constructive role in regional and international affairs.

Abe said the two economies are interdependent and China's rapid economic development has helped Japan's economic recovery and growth.

Abe reiterated that Japan will adhere to the one-China policy, and not support "two Chinas," "one China, one Taiwan" or "Taiwan independence."

| | | |
| --- | --- | --- |
| 1 | 2 | |