TOKYO - Japan's new Prime Minister Shinzo Abe headed to China in a bid to ease years of deteriorating ties between Asia's biggest economies, but a crisis over North Korea cast a shadow over the visit.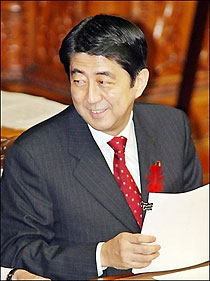 Japan's new Prime Minister Shinzo Abe, pictured 04 October 2006, was due to to visit China in a bid to ease years of deteriorating ties between Asia's biggest economies. [AFP]

Abe is the first Japanese leader to visit Beijing since 2001. He will head on Monday to South Korea, which like China refused to invite Abe's predecessor Junichiro Koizumi due to an emotionally charged row over wartime memories.

The trip carries deep symbolism as it will be the first foreign trip for Abe, who was long seen as a hardliner toward Asian neighbors. Japanese premiers have traditionally gone first to the United States.

But the visit will be overshadowed by growing concerns over North Korea, which last week pledged to test its first atom bomb and could carry out its threat at any time.

"Together with the international community, Japan will send a message to make North Korea understand that things will get worse if it fails to respond to the international community's concerns," Abe said ahead of his visit.

Abe, with US backing, has championed a tough stance against the state. China and South Korea have preferred a more conciliatory approach and warned against further isolating the country.

Abe, who took office on September 26, is set to hold talks in Beijing with President Hu Jintao and Premier Wen Jiabao. China is considered to hold the most leverage of any country over North Korea.

A senior Japanese official, speaking in Beijing ahead of Abe's trip, said it was "quite natural" that North Korea will figure in Abe's meetings.

"Mr Abe thinks the international community must come together in putting pressure on North Korea so that North Korea would refrain from implementing a nuclear test in the future," the official said.

Abe's predecessor Koizumi visited Beijing in October 2001 but China refused to invite him again due to his repeated visits to a shrine linked to Japan's imperialist past.

Abe has strongly supported trips to the Yasukuni shrine, which honors war dead and war criminals alike. But he has repeatedly refused to say if he will go as prime minister.

The Japanese government on Friday denied remarks by a Chinese official that Abe agreed not to go to the shrine as a condition to visit China.

Abe has come under intense pressure from business leaders to repair ties with China, which is Japan's largest trading partner.