Police catch 'Jilin butcher'
(China Daily)
Updated: 2006-09-30 07:15
Police in Northeast China's Jilin Province on Friday arrested a 37-year-old man accused of killing 13 people and injuring four others.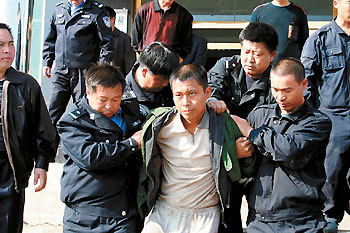 Shi Yuejun(C) is caught by police on September 29, 2006. [Xinhua]

Following a six-day manhunt, Shi Yuejun, a butcher from Tonghua in Jilin Province, was caught in a cornfield in the outskirts of the county's Liunan Town.

A total of 14,000 people, including 2,000 police, were involved in the hunt for Shi, who is alleged to have killed eight people and seriously injured three last Sunday in Tonghua and Liuhe counties. He is alleged to have killed five people and injured one more while trying to evade capture.

Police offered no motive for Shi's alleged killing spree, but local people said that he had a history of psychological problems.

The Ministry of Public Security issued a Class-A warrant for Shi on Thursday, offering a reward of 100,000 yuan (US$12,500).