Beijing yesterday condemned Taiwan "president" Chen Shui-bian for his attempt to change the island's name and "territorial" definitions, warning any move towards formal "independence" would not be tolerated.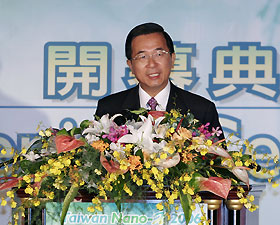 Taiwan "President" Chen Shui-bian delivers a speech at the opening ceremony of Taiwan Nano-X2006 exhibition in Taipei September 27, 2006.

Chen proposed the possible change at a seminar on Sunday and has instigated his ruling Democratic Progressive Party (DPP) to include the issue in its "draft constitution."

While pushing for the "constitutional re-engineering project," the independence-leaning DPP is studying "constitutional" changes to name the island the "Republic of Taiwan", instead of "Republic of China", and redefine its "territory."

Members of the DPP, which enshrines formal "Taiwan independence" in its party platform, are expected to introduce "legislation" on the new "constitution" next month.

"We will never waver on our position of opposing 'Taiwan independence'," said Li Weiyi, spokesman for the Taiwan Affairs Office of the State Council, China's cabinet.

"We will never tolerate any move to seek Taiwan's de jure independence through 'constitutional' change."

He told a regular press conference that the mainland "will closely watch and stay on high alert to new developments" in Taiwan's "constitutional" reform.

"Anyone who attempts to make Taiwan secede from China by any means is playing with fire and doomed to a disgraceful defeat," Li added while reading a strongly-worded prepared statement.

The spokesman did not specify what actions will be taken in response to a secessionist push by Chen. But the National People's Congress, China's top legislature, last year approved the Anti-Secession Law to curb any secessionist scheme to pursue formal "independence" for the island.

Beijing claims Taiwan is an inalienable part of China, and both the mainland and Taiwan are part of one and the same China.

Chen had repeatedly pledged to shun the sensitive issue of "sovereignty and territory" after he came to power in May 2000 but following his re-election in 2004, the leader vowed to write a new "constitution" for the island before his second term ends in May 2008.

Chen's new proposal for "territorial" change in the "constitution" has sent out a "dangerous signal" of his pursuing de jure "independence" through "constitutional" change, Li said.

"It once again demonstrates that he is a discredited man and his political personality has completely gone bankrupt," he told reporters.

| | | |
| --- | --- | --- |
| 1 | 2 | |