Hefty fines for 'scar' producers mulled
(Xinhua)
Updated: 2006-09-24 09:56
Companies responsible for distributing the illegal small flyers on Beijing streets will face fines of up to half a million yuan, if the local laws are revised as planned.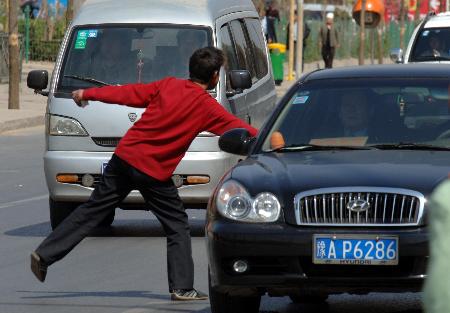 A teenage distributor slips a flyer into a moving car near the Yuegezhuang Overpass on the 4th ring road in Beijing, April 21, 2006. [Xinhua]
The Beijing News on Saturday reported the municipal legislature is soliciting public comment on the revised draft of the Regulations of Beijing Municipality on the Administration of City Appearance and Environmental Sanitation. Lawmakers will deliberate the draft in October.
The proposed fines are part of the city's latest efforts to rid itself of the "psoriasis on the urban landscape": the small flyers pasted on electric poles, public phone booths, bus stops, pavements and even police cars.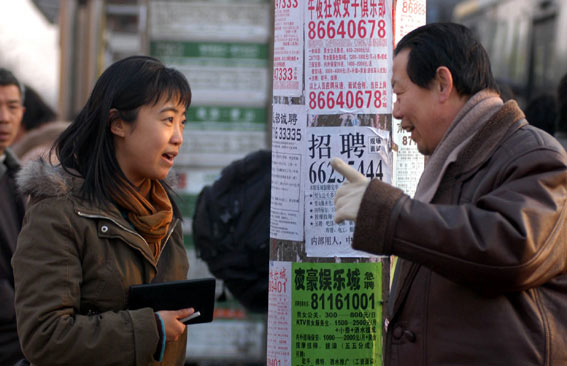 A Beijing resident, right, expresses his indignation at illegal ads pasted on an electric pole at a bus stop in the Liuliqiao area in this undated photo. [Xinhua]
The hard-to-remove bills usually advertise illegal businesses ad service, like fake IDs and certificates, unlicensed clinics treating venereal disease, or dodgy employment agencies.
Under the revised draft law, no-one will be allowed to post or paste unauthorized ads in public places. Companies caught violating the law may be fined between 10,000 and 100,000 yuan. Serious offenders may be fined between 100,000 and 500,000 yuan. (1 USD=8 Yuan).
The draft also stipulates that the proceeds from illegal ads will be confiscated. Any phone numbers found on the ads will be suspended.
The Beijing News report says 11,926 phone numbers on illegal ads have been suspended by September 15 of this year.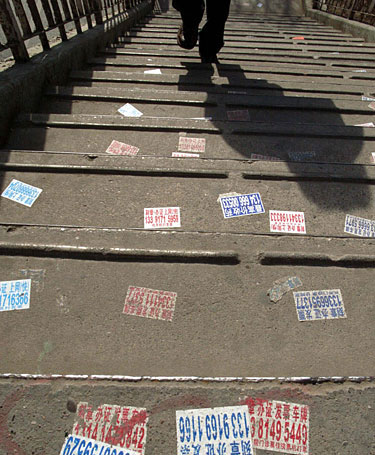 Illegal ads pasted on a pedestrian overpass on Beijing's 3rd ring road, April 15, 2006. [Xinhua]
Beijing has taken a number of steps to rid itself of the annoying flyers since early this year. In May, the city ordered that anyone caught handing leaflets out on the street twice would be placed in detention or given up to two years of community service. But illegal ads are still a common sight at bus stops and on the pavement.
The companies distributing the ads usually hide behind the scenes, employing teenagers to distribute the ads. The teenagers often hop between cars to distribute the flyers in busy traffic, putting their own and others' lives in danger.