China, Japan talk sees no breakthrough
(AP)
Updated: 2006-09-24 09:40
TOKYO - Japan and China remained deadlocked Saturday on a range of issues including resuming leadership summits under Japan's premier-in-waiting, Shinzo Abe, but both sides agreed to keep talking, a Japanese official said.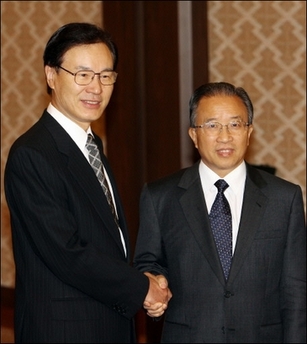 Chinese Executive Vice Foreign Minister Dai Bingguo (R) is welcomed by his Japanese counterpart Shotaro Yachi (L) prior to their meeting at the Foreign Ministry's Iikura guesthouse in Tokyo. Japan and China began vice-ministerial level talks just a few days ahead of Japan's new administration, in a bid to seek ways to ease strained ties between the two Asian powers.[AFP]
"There are many unresolved issues, and talks will continue," Japanese Vice Foreign Minister Shotaro Yachi told reporters after meeting his Chinese counterpart Dai Bingguo in Tokyo.
Chinese leaders have refused summits with outgoing premier Junichiro Koizumi over his repeated visits to a war shrine linked to Japan's past militarism, plunging bilateral relations to their lowest point in decades.
Saturday's talks were the first between the two sides since May. Yachi said they discussed a range of issues concerning bilateral relations and regional security, including how to share oil and gas resources in a disputed section of the East China Sea.
He declined to give details, saying the two sides had agreed not to make the specifics public. The talks will continue next week, he said.
Abe, who scored a landslide victory in ruling party elections on Wednesday, is set to succeed Koizumi as prime minister next week.
Though known for his hawkish stance on foreign policy, news reports have said Abe wants to arrange a summit with Chinese President Hu Jintao on the sidelines of a regional conference in Vietnam in November.
Yachi refused to say whether he thought the Chinese will be open to such talks.
On top of the war shrine issue, Tokyo and Beijing have recently squabbled over the response to North Korea's missile tests in July, as well as Japanese school textbooks that China says gloss over Japan's wartime atrocities in Asia.