US consumer products giant Procter & Gamble Co announced on Friday it has suspended the sale of its SK-II skincare products in China and closed counters selling the beauty line.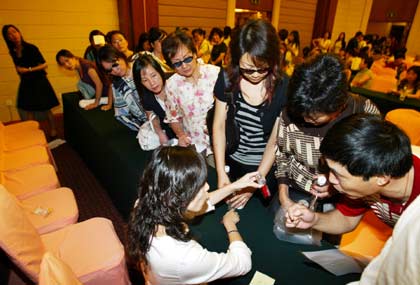 Customers wait in line to return SK-II skincare products in Shanghai on Wednesday, September 20, 2006. Neodymium and chromium - substances banned in cosmetics which can cause allergic dermatitis and eczema - were detected last week in the Japanese cosmetic brand SK-II. [Xinhua]
The move came after China's General Administration of Quality Supervision, Inspection and Quarantine announced last Thursday that it had detected neodymium and chromium in SK-II cosmetics produced by Procter and Gamble Company (Japan).
In a statement, SK-II said: "Although we believe our products are safe, sales will be suspended until we affirm our products meet China's standard on neodymium and chromium in cosmetics."
China's Regulations on Hygienic Standards for Cosmetics forbid cosmetics from containing the two metals.
SK-II stopped accepting claims for refunds starting from Friday.
Its hotline told consumers requiring a refund to "wait for some days to see a result," adding that those who returned goods by Thursday would get their money back within 20 working days.
A spokesperson for SK-II said its previous refunds were based on "goodwill" because it was not legally required to make these payments.
"Neodymium and chromium exist in nature and it is very hard to remove them completely from our products," added the spokesperson.
The spokesperson said many countries such as Japan and the United States allow a tiny amount of the two heavy metals in cosmetics.
On Thursday, the Shanghai Food and Drug Administration required the SK-II brand to stop sales of 12 types of its cosmetics in Shanghai after finding that they contained the metals.
The administration said a legal examination agency had detected the forbidden metals in these products, including nine that the national quality watchdog already said had problems.
The administration also pointed out that written agreement SK-II required consumers to sign before they return goods contained some illegal provisions.
For example, according to the agreement, consumers must acknowledge that SK-II cosmetics have no quality problems.