BEIJING - US Treasury Secretary Henry Paulson met Friday with China's president and premier and said they agreed on reforms the country needs to undertake. But there was no sign of progress on currency and trade disputes as he wrapped up a four-day visit.
Paulson described his meetings with President Hu Jintao and Premier Wen Jiabao as positive, though he said they didn't agree on a timetable for reform. He wouldn't say whether they discussed US complaints about Beijing's mounting trade surpluses and currency controls.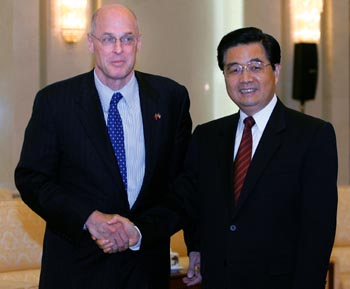 US Treasury Secretary Henry Paulson (L) shakes hands with China's President Hu Jintao during their meeting at the Great Hall of the People in Beijing September 22, 2006. Washington and Beijing differ on the timing of resolving their economic disagreements, but not on the general goals, US Treasury Secretary Henry Paulson said on Friday after meeting China's top two leaders. [Reuters]
( Related: Paulson takes softer line with China )
"Their enthusiasm was very encouraging," Paulson told reporters before he left for Washington. "I find it quite encouraging that there are very few issues - I can't think of any - where there were differences on the principles. Where there are differences is on timing."
The former Goldman Sachs chairman visited China amid US pressure for Beijing to raise the value of its currency, the yuan. Critics say the yuan is undervalued, giving China's exporters an unfair advantage and adding to its trade surplus with the United States, which last year reached a record US$202 billion.
Paulson warned earlier against expecting breakthroughs from his first trip to China as Treasury secretary. He said his goal was to start a long-term economic dialogue - a position that appears certain to frustrate US lawmakers, who want him to push Beijing for faster action to raise the yuan's value.
The two governments announced a formal dialogue mechanism this week that calls for Paulson and a Chinese vice premier, Wu Yi, to meet twice a year to discuss major economic issues. They didn't say whether it would include the currency, but the US government said it would still press Beijing over that, as well as protection of intellectual property and other issues.
Hu, who also is general secretary of the ruling Communist Party, greeted Paulson warmly, noting that he visited China dozens of times during his years on Wall Street.
"You're an old friend," Hu said. "You've contributed a lot to the long-term financial cooperation between China and the United States. I appreciate that."
Hu spent 45 minutes with Paulson - an unusually long meeting for the Chinese leader with a foreign Cabinet official, which reflected the extreme importance to Beijing of trade and financial relations with the United States.
Paulson has stuck to a conciliatory tone with Beijing, avoiding publicly pressuring Chinese leaders and stressing the benefits of reform for ordinary Chinese.
He said this week that he would try to persuade two key American senators to drop proposed legislation to press for an end to currency controls by raising tariffs on Chinese goods.
US Senators Charles Schumer and Lindsey Graham are expected to call for a vote on a bill next week that would slap a 27.5 percent tariff on Chinese imports unless China makes steps to loosen its currency policy.
China ended the yuan's direct link to the US dollar 14 months ago but has allowed it to increase only 2 percent against the American currency since then in tightly controlled trading.
On Thursday, central bank Gov. Zhou Xiaochuan said China plans to end exchange controls on the yuan and open its financial markets, but gave no timetable, reported sate media.
"We will continue our efforts to develop our financial market and widen it gradually," Zhou was quoted as saying. He said Beijing will "push for the free convertibility of the yuan in a stable manner."