BEIJING - Procter & Gamble Co. said Friday it has suspended sales of its SK-II products in China after authorities discovered banned substances in its popular skin care range, prompting angry outbursts from consumers seeking refunds.
The US consumer products giant decided to take action in China, including temporarily shutting its SK-II sales counters nationwide, in part due to "security incidents" between customers and employees at some of its sales counters, said Charles Zhang, external relations manager for P&G Greater China.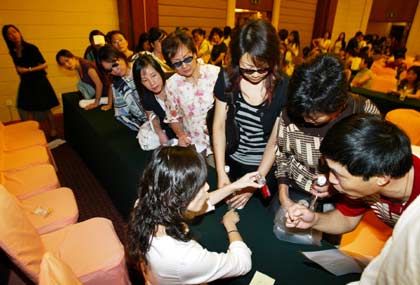 Customers wait in line to return SK-II skincare products in Shanghai on Wednesday, September 20, 2006. Neodymium and chromium - substances banned in cosmetics which can cause allergic dermatitis and eczema - were detected last week in the Japanese cosmetic brand SK-II. [Xinhua]
The Shanghai Daily newspaper reported that police were called to the Park Hotel in Shanghai on Wednesday to help deal with some 400 angry consumers seeking refunds on SK-II products.
The report said customers were upset they had to sign a waiver saying there was nothing wrong with the quality of the cosmetics and that they would have to wait one month before getting a cash refund.
China's quality and inspection regulators in local cities, as well as the General Administration of Quality Supervision, Inspection and Quarantine, have asked the company to take action after finding trace amounts of chromium and neodymium in SK-II products, the official Xinhua News Agency reported.
Chromium and neodymium can cause skin allergies and other illnesses.
The sales suspension will give the company time to get more information from the Chinese government about their test results, Zhang said.
Cincinnati, Ohio-based P&G said in a statement on its Web site that it was confident its Japanese-made SK-II products comply with safety standards and regulations required by health authorities in the US, Canada and the EU.
The company's Japanese Web site assured domestic customers that the products "of course meet the standards for quality and safety expected of cosmetics in Japan, and there are no problems."
The were no immediate reports of products recalls outside China.
"The Chinese government recently raised questions about two elements found at trace levels in SK-II products. SK-II does not add these elements as ingredients in any of our products," the statement said.
Zhang said the chromium and neodymium were not deliberately added but occurred naturally.
Chromium can cause eczema while neodymium irritates the skin and can damgage the lungs and liver if inhaled.
Earlier in the week, the General Administration of Quality Supervision, Inspection and Quarantine warned that China would ban imports of SK-II products if any further contamination was discovered.