China Thursday denied that it has adopted a policy of cultural assimilation towards its 55 minority ethnic groups to limit the development of their cultures.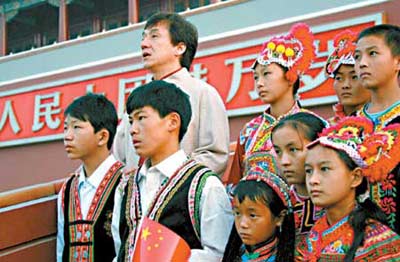 Movie star Jackie Chan joins a group of 15 minority students at a flag-raising ceremony in Tian'anmen Square in Beijing, September 21, 2006. The poverty-stricken students, from Wuding and Yongren counties in Yunnan Province, are the beneficiaries of a charity programme sponsored by Commercial Bank of China and Huayi Brothers. The project is dedicated to helping children in underdeveloped regions stay in school. [Xinhua]
Tondrub Wangden, vice-minister of the State Ethnic Affairs Commission, said that ethnic minority culture has "never been as better protected as now."
"In fact, there is everything but cultural assimilation in our policy. Our policy is to protect and develop the cultures of minority ethnic groups," he told a press conference organized by the State Council Information Office.
The vice-minister was responding to Western media allegations of local cultures being suppressed.
He noted that legislation and regulations, including the Constitution and the Law on Regional Ethnic Autonomy, provide a strong legal basis to help ethnic minorities develop their own cultures.
"Each minority ethnic group enjoys the freedom to use its own language and characters, the freedom to retain or reform its customs and habits, and the freedom to religious belief," said the vice-minister.
Given the economic backwardness in ethnic minority regions, Tondrub Wangden said, the government has made great efforts and invested heavily to save and preserve their cultural heritage.
One example he cited was the renovation of the Potala Palace in Tibet, on which the central government spent 53 million yuan (US$6.625 million) and 1,000 kilograms of gold.
China's cultural agencies have collected more than 1 million ancient ethnic books over the past 50 years in a bid to preserve cultural heritage; and 5,000 titles have been published.
Tongdrub Wangden, a Tibetan who earlier served as assistant governor of Yunnan Province, hailed the successful model of Lijiang of Yunnan Province and Jiuzhaigou of Sichuan Province, both tourist destinations famous for local minority culture.
"It protects the natural scenery, preserves and develops the unique aspects of local culture and, at the same time, achieves good economic returns for local people," he said.
Tongdrub Wangden shrugged off concerns that developing tourism may cause damage to the original cultures of some ethnic minorities.
"We cannot absolutize or dehumanize the protection of ethnic minority cultures and must take into account the evolution and development of these cultures," he told reporters, adding that preservation does not mean isolation.
"I think it is neither good nor right to enclose a minority ethnic group in an isolated area just for the purpose of preserving their original culture."