High-ranking Chinese and US officials will meet twice a year for wide-ranging discussions on their economic relationship, the first such mechanism between the two nations.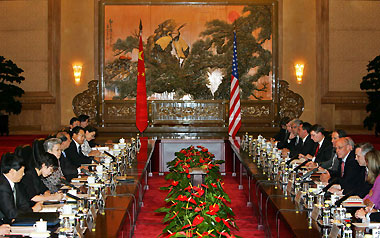 U.S. Treasury Secretary Henry Paulson (3rd R) speaks to Chinese Vice Premier Wu Yi (3rd L) during official bilateral talks at the Great Hall of the People in Beijing September 20, 2006. [Reuters]


The establishment of the China-US Strategic Economic Dialogue was jointly announced by Vice-Premier Wu Yi and visiting US Treasury Secretary Henry Paulson in Beijing.

President Hu Jintao and his US counterpart George W. Bush agreed last month to establish such a dialogue.

"Given the rapid pace of economic globalization and growing bilateral economic relations, the establishment of the talks will have a positive impact on world economic development as well as global economic stability and security," Wu told a press conference.

The dialogue will focus on bilateral and global strategic economic issues of common interest and concern; and both sides intend to meet twice a year in alternate capitals, according to a joint statement.

Wu, one of the highest-ranking officials in charge of economic policy, and Paulson, a former head of investment bank Goldman Sachs with extensive knowledge of China, are the representatives of the two presidents in the new dialogue.

Wu urged the two sides not to politicize trade issues and look for solutions through talks and negotiations.

Paulson said the US administration has given priority to US-China ties in its foreign policy and is looking forward to enhance dialogue and co-operation in a series of major issues.

In a sign of the importance attached to the dialogue, Paulson is scheduled to meet President Hu and Premier Wen Jiabao tomorrow before concluding his 4-day visit.

Addressing a press conference at the US Embassy last night, Paulson said that the Chinese economic structure needs a change.

"The Chinese economy has been moving on remarkably and quickly," said Paulson. "What other countries take a year to accomplish, it only takes six months in China.

"But it needs a transition from an economy based on low-cost labour and low value-added products to to a complex economy. And I believe that will happen."

He urged the country to open its capital market to overseas firms and banks, saying that a global economic review has proved that a country with a healthy capital market is essential to ensure successful economic development.

Paulson also said that flexibility in the exchange rate of the yuan is essential to the reform of the capital market.

The perfect outcome, Paulson said, is for the renminbi to "become fully convertible" but added that he didn't expect it in the near future.