Watching a historical film. Visiting museums. Shutting down businesses for the day. These were among the many ways people across the country yesterday marked the 75th anniversary of the 'September 18 Incident', which signalled the start of Japan's invasion of China.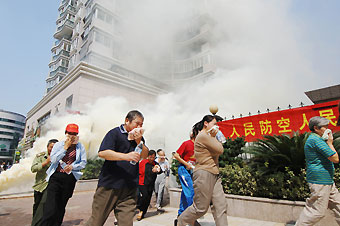 Local residents evacuate during an air defence drill in Hangzhou, Zhejiang Province on September 18, 2006. [Xinhua]


University students nationwide were offered half-price tickets to Tokyo Trial, a movie released earlier this month by Shanghai Film Group Corporation.

The film depicts the trial of 28 top Japanese war criminals at the International Military Tribunal for the Far East in 1946 by judges of 11 Allied Powers, including China, after Japan's surrender at the end of World War II.

Kang Xuejun, manager of Xindong'an cinema in Beijing, told China Daily yesterday morning that the movie was almost fully booked for the afternoon shows; and has drawn more audiences of various age groups than other history-themed movies.

On September 18, 1931, Japanese troops blew up a section of the Dalian-Harbin Railway near Shenyang, capital of Northeast China's Liaoning Province. Using the pretext of sabotage by Chinese troops, they bombarded the Chinese barracks near Shenyang the same evening, starting a massive invasion.

In Northeast China, the first region that fell to invading Japanese forces, people turned up in large numbers at museums, which provide a truthful account of history.

More than 1,500 people visited a newly-opened museum at what was formerly the Museum of the Imperial Palace of the Manchu State in Changchun, capital of Jilin Province.

The museum focuses on how invading troops annexed Northeast China; and some of the 1,000 documents and antiques on display are donated by Japanese veterans and peace-loving overseas friends, according to the curator, Li Yifu.

More than 20,000 people visited the September 18 Historic Fact Museum in Shenyang, capital of Liaoning.

The museum has a collection of 2,000 antiques, photos and documents and more than 7 million people from both home and abroad have visited it, Jin Xiaoguang, the curator, was quoted as saying by Xinhua.

Wang Dan, a 57-year-old resident who has visited the museum annually in the past many years, said: "Many of my relatives died in the war. Time has elapsed but history should never be forgotten. We can learn many lessons from history."

In Changsha, capital of Central China's Hunan Province, a wedding service company reportedly inspired by other businesses in the city shut down for the day.

It is improper to celebrate on a day of national humiliation, the company said in an announcement.