SINGAPORE - China's efforts to moderate its economic boom appear to be taking hold, central bank governor Zhou Xiaochuan said Sunday, reiterating Beijing's pledge to consider easing controls on its currency.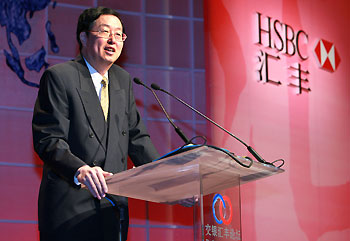 Zhou Xiaochuan, governor of China's central bank, speaks at a banking forum on June 15 in Beijing. [Xinhua]

Zhou, governor of People's Bank of China, speaking on the sidelines of the annual meeting of the International Monetary Fund and World Bank, said China would keep the yuan basically stable and consider widening the daily trading band on the currency, reiterating that China will reform its foreign exchange regime in a "gradual, effective, and controllable" way.

When interviewed by reporters, Zhou said that China is a big country and have to consider many aspects in its policymaking.

"But the direction of China's foreign exchange regime is fixed, there will be no way back," said Zhou.

On the IMF's voting rights reform, Zhou said China welcomes IMF 's reform. Some developing countries, which had different views on the voting rights reform of the IMF, are not against China, but holding viewpoint that the IMF should set up a complete mechanism on voting rights, said Zhou.

He continued to say China has adopted effective measures to curb its overheating economy and that these measures are beginning to take effects. The central bank has raised the benchmark interest rates and deposit reserve ratio twice on the run, said Zhou.

"But monetary policy will have a time lag, so you could not expect it to take effect tomorrow, when you adopt a measure today, " said Zhou.

Zhou downplayed the role of the yuan's exchange rate in resolving global trade imbalances.

"Structural policy plays a much larger role compared with the exchange rate," he said.

China ended the yuan's direct link to the US dollar in July 2005, switching to a system that bases the exchange rate on a group of world currencies. But the yuan is allowed to fluctuate by a fraction of a percentage point daily, and has risen by only 2 percent against the dollar since then.

Chinese leaders say they plan eventually to let the yuan trade freely on world markets. But they say doing so too quickly could harm fragile Chinese banks and other financial industries.

Meanwhile, Zhou said the country would use a series of measures to curb excess investments in property and other booming sectors, including adjusting interest rates, banks' reserve ratios and open market operations.

China has been trying to slow economic growth, which hit an annual rate of 11.3 percent in April-June, its fastest rate in a decade.

Zhou is now in Singapore for the IMF and World Bank annual meetings which are expected to open next week.