Virtuous. Hard-working. Happy.
These are the qualities embodied in the mascot a young cow for the Beijing 2008 Paralympic Games which was unveiled yesterday to mark the two-year countdown to the event.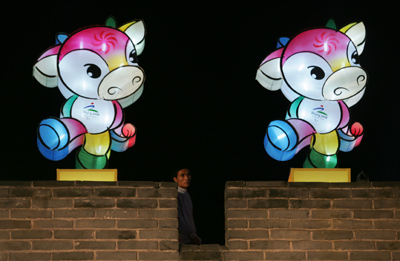 A man watches between Fu Niu Leles, the official mascot of the Beijing 2008 Paralympic Games, during a launching ceremony at the foot of the Great Wall's Badaling section, in Beijing September 6, 2006. Lele is unveiled Wednesday night to mark the two-year countdown to the opening of the Paralympic Games. [Reuters]
The mascot is an expression of the Chinese people's sincerest wish for happiness of the disabled all over the world, said Liu Qi, president of the Beijing Organizing Committee for the Games of the XXIX Olympiad (BOCOG).
"Fu Niu Lele" is modelled after a lovely young cow. "Niu" stands for cow in Chinese while "Fu" means lucky and auspicious, and "Lele", happiness.
Officials explained that the design conveys a rich tone of traditional Chinese culture, embodies the Olympic spirit, and symbolizes the indomitable spirit of Paralympians and their quest for self-reliance.
"The cow, which is down-to-earth, diligent and staunch, is adopted to show the undying spirit of athletes with disabilities being the best they can be," said Jiang Xiaoyu, BOCOG executive vice-president.
The mascot was the brainchild of Wu Guanying, a professor at the Academy of Arts and Design, Tsinghua University.
"People with disabilities are very common around us so we chose a common animal to be the mascot for them," said Wu.
China has around 60 million people with disabilities.
"The final image of the mascot integrates colours from traditional Chinese New Year drawings with a modern cartoon figure of a cow," Wu said.
The mascot won praise from the International Paralympic Committee (IPC).
"The 2008 Beijing Paralympic Games mascot epitomises another side of sport. On the one hand, sport is about medal-winning athleticism but on the other, sport and participation in sport, bring happiness, fun and enjoyment to people all over the world," said Philip Craven, president of the IPC.
"This colourful ambassador of joy will attract people of all ages to the universal message of Paralympic sport, which is 'Spirit in Motion'."
Licensed mascot products and stamps will go on sale nationwide from today.
(China Daily 09/07/2006 page1)