Army orders road hogs to behave
(Xinhua)
Updated: 2006-09-03 16:09
Military units in Beijing have been ordered to monitor their vehicles and strictly penalize drivers who violate traffic laws and other regulations.

The four general departments of the People's Liberation Army (PLA) -- the Headquarters of the General Staff, General Political Department, General Logistics Department and General Armament Department -- have jointly ordered a campaign to raise driving standards in the capital, according to the Beijing News on Sunday.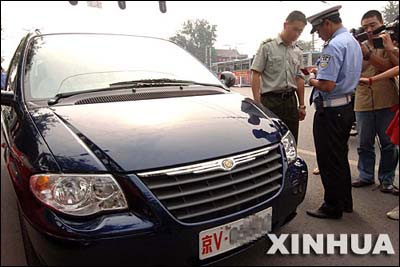 A police officer checks the driver's licence after the military vechicle was found violating traffic rules in a busy street in Beijing in this August 24, 2006 photo. [Xinhua]


The campaign, to run till the end of the year, also targets leading organs of the Communist Party and the government, said the report.

These bodies are usually equipped with cars bearing military license plates, indicating the rank of their owners or passengers.

"Frequent violations of traffic laws and other regulations have tarnished the army's image among the people," according to an announcement made by the four PLA general departments.

In China, military cars are legally entitled to privileges, including exemption from road tolls, but they are often seen blatantly breaking road rules by speeding, dangerously changing lanes or running red lights. In some cases police have found illegal or fake military license plates are used by law breakers.

Police officers are usually reluctant to pull over drivers of military cars for fear of their military and political standings.

Beijing's military personnel as well as the Party and government should strengthen the management of vehicles and set a good example on the road, said the announcement.
The announcement failed to elaborate on the penalties military units or drivers of military vehicles might face.

It also asked for closer cooperation between military units and law enforcement departments to get bogus military cars off the road.

A number of military plates, which differ from ordinary vehicle plates in color and numbers, have been issued against regulations to the public, exempting them from road tolls and parking fees.

The announcement ordered a thorough check of all military vehicles and the revocation of illegally-granted plates and licenses.

The four departments initiated the campaign in response to public complaints.

"Troops stationed in Beijing have made progress toward standardization and modernization, but loopholes in management, idleness and demoralization among a few military units are eroding the army's reputation," said the announcement.

The campaign aimed to improve management of military vehicles and to educate officers and enlisted ranks on awareness of public interests and etiquette.