Mengniu Dairy, one of China's top two dairy producers, is an excellent model in brand building among Chinese mainland companies.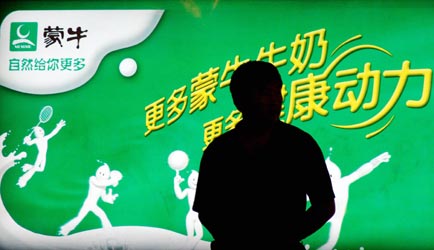 A Chinese resident looks at an advertisement board of Mengniu Dairy in Zhengzhou, central China's Henan Province, July 28, 2006. [Newsphoto]
Only a small, little-known start-up with an investment of 13 million yuan at the end of last century, Mengniu shot to its current position in just five years.
It boasted 1.66 billion yuan in net assets by the end of last year, and its revenue in 2005 hit 10,825 million yuan, according to its latest financial reports.
The Hong Kong-listed company's net profit for the first half of the year soared by 39 per cent to 343.4 million yuan, with revenue surging 58.7 per cent to 7.5 billion as a result of successful launch of new "value-added" products.
Mengniu's success, to a great extent, can be attributed to its efforts in cultivating a brand image.
Based in northwest China's Inner Mongolia, the company has been investing heavily in promoting its image and products.
"Brand building is the most significant element for the survival of a company," Mengniu president Niu Gensheng told chinadaily.com.cn.
"Other things can perish over time. Brands are the only thing that can last for hundreds of years," Niu said.
"Mengniu" literally means Mongolian cows in Chinese. Its advertisements, dominated by the company's corporate colors of green and creamy white, can be seen on subway cars in Hong Kong and on large posters along the highways in Beijing and other Chinese cities.
Already a household name in China, Mengniu still lavishes money in its aggressive campaign. The company spent 532 million yuan on advertisement in the first half of 2006, even though the hefty sum pulled down its net profit.
The company pledged to spend the same amount in the second half to promote sales and to facilitate market penetration of its new products.
Mengniu's successful public relations campaign can be seen in its association with China's space programme and popular TV shows like the "Super Girl" contest, an American Idol-style competition.
Following the success of China's first manned space mission in October 2003, the dairy firm managed to win exclusive rights to supply milk and other dairy products to astronauts in China, greatly boosting its image.
In 2004, the first Chinese astronaut in space Yang Liwei was featured in several of Mengniu's advertisements, which generated tremendous interest among consumers both on the mainland and in Hong Kong.
In 2005, Mengniu sponsored the "Super Girl" contest, which proved to be an even bigger PR success. With millions of teenagers crazy about the competition and almost all of the country talking about the event, Mengniu became even more famous.
It topped the 2006 Hurun Report on Top Chinese Private Brands, with a brand value of US$750 million.
By the end of June of this year, the company had 19 production bases with an aggregate annual production capacity of 3.57 million tons.
"It is fair to say our rapid growth has largely been driven by our success in promoting our products' association with sports stars and astronauts," said Sun Xianhong, Mengniu's vice-president of marketing.
"The investment in strengthening advertising and marketing strategies has proved to be very rewarding," said Mengniu chief administration officer Lei Yongsheng.
Mengniu currently holds a 31.7 per cent share of the mainland's milk market by volume, compared to 28.6 per cent at the end of 2005.
On the global front, Mengniu has forged a partnership with Denmark's Arla Foods. The companies are setting up a joint venture with an investment of 540 million yuan, which will focus on the production of dried dairy products such as milk powder.
The company has also entered into an alliance with the Hong Kong Disneyland, becoming the dairy product sponsor of and supplier to HK Disneyland and two of its affiliated hotels.
Mengniu has been the No. 1 milk seller in Hong Kong for the last two years.