The People's Court of Yinan County, in east China's Shandong Province, Thursday sentenced Chen Guangcheng to four years and three months in prison on charges of willfully damaging property and organizing a mob to disturb traffic.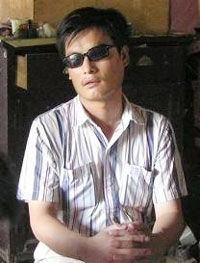 Chen Guangcheng. [AP]

The sentence was passed in a public court session.

Xinhua was provided with a document by the court that provided only the following details of the proceedings.

The document says, Chen was upset with workers who were sent to carry out poverty-relief programs in East Shigu Village, in Shuanghou Town of Yinan County.

It says on February 5, 2006, Chen (who is known to be blind) rushed to the office of the village committee and damaged doors and windows. The court document says Chen was given guidance by his wife Li Weijing and others. Following this incident, the court document says Chen then went to the home of Chen Guangyu and instigated Chen Guanghe, Chen Guangdong and Chen Gengjiang to damage and smash cars belonging to the Shuanghou Police Station and the town government.

The court document does not indicate if any of the other individuals had been charged or convicted.

The court document says Chen Guanghe and Chen Guangdong also instigated other villagers to damage government cars, and they chased and beat officials from the town government.

Using clubs and stones, the mob smashed the windows of three cars from the police station and the town government, overturned the cars in roadside ditches, and beat police officers from the Police Bureau of the county, according to the document.

It goes on to say that on the evening of March 11, Chen Guangyu, who was then drunk, claimed he was beaten by some people, and he attacked the office of the village committee and damaged things in the office.

Later, at about 6:00 pm, according to the document, Chen Guangcheng organized a group of people, including Chen Guangyu, Chen Guangjun and Yuan Weijing, under the excuse of seeking justice for Chen Guangyu. They interrupted traffic in the Yinghou Village section of the National Highway 205.

The document says Chen Guangcheng stood in the middle of the road to stop vehicles and directed the mob, including Chen Guangjun and Chen Guangyu to yell out and stop traffic.

It goes on that police arrived to reopen the road, and to try to persuade Chen Guangcheng to desist from leading the mob and stopping the traffic. Chen refused to comply and continued to direct the mob to block vehicles.

The document says the mob stopped the traffic for three hours and delayed more than 290 vehicles, including an ambulance carrying a pregnant woman to hospital.

The court document says Chen's rights were completely protected, and his two lawyers expressed their views in full.