Xu Jinglei most popular blogger in world
(Xinhua)
Updated: 2006-08-24 08:14
The weblog by Chinese starlet Xu Jinglei is now the world's most popular. With more than 50 million clicks it tops the "Technorati" billboard, a leading weblog search engine.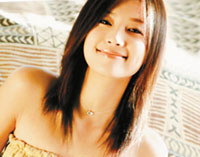 Xu Jinglei

"I didn't expect it to be so popular. An avalanche of clicks has encouraged me to keep writing," said Xu, adding that her blog is mainly aimed at promoting her films.

Xu, an actress-turned-director, became famous overseas when she won a best director award for "Letter From An Unknown Woman" in the 2004 San Sebastian International Film Festival in Spain.

She considers blog writing to be the most convenient and economic way of publicizing her films.

While busy shooting her latest movie "Dreams May Come", which was released in China at the end of June, she put details of the filming process and her marketing plans into her blog.

She even inserted in her blog links to film clicks posted on the website of her film company.

China Mobile seized the occasion, adding a link at the top of her blog's home page to announce that the theme song of "Dreams May Come" sung by Xu herself could be downloaded for cell phone rings.

Begun last October, Xu's blog at blog.sina.com.cn/m/xujinglei only took 112 days to break domestic records with more than 10 million visits.

Since then, she has updated her blog every other day. But if she feels in a very good mood she sometimes posts two or three articles in a day.

Sensitive articles with her musings about life have made this beautiful young director even more thoughtful and talented, and drawn legions of fans.

Visitors leave thousands of messages about each of her articles, applauding her open, free writing style, commenting on films or taking advantage of her popularity to advertise their own blogs or businesses.

A survey by Baidu.com showed there were 16 million bloggers writing in Chinese last year, with a total of 36.82 million weblogs. Xu Jinglei was one of the first celebrities that the portal website Sina invited to open blogs last year.