New US Treasury chief to visit China
(AFP)
Updated: 2006-08-24 07:02
New US Treasury Secretary Henry Paulson will head to China next month for his first overseas trip since taking office in July, an official said.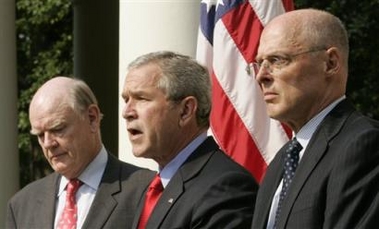 President Bush announces that Goldman Sachs Chairman Henry M. Paulson Jr., right, is his nominee to replace outgoing Treasury Secretary John Snow, left, in the Rose Garden of the White House Tuesday, May 30, 2006 in Washington. [AP]


"I can confirm that he is going in September. I can't confirm the dates right now," Treasury spokesman Tony Fratto said. Further details of the trip would be announced next week, he said.

Paulson has echoed his predecessor John Snow and senior US lawmakers in criticizing the Chinese government's currency regime.

China has flooded US markets with its exports through the help of an artificially weak exchange rate, American critics contend.

"The Chinese need to show more flexibility with their currency," Paulson said on August 1, in his first public comments since succeeding Snow on July 10.

Paulson said then that he would travel to Asia in the autumn and that trade issues would likely top his agenda.

Snow toured China last October as part of a campaign of quiet diplomacy with Chinese leaders on currency and trade questions.