China's commercial banks reduced their ratio of nonperforming loans to total lending to 7.5 percent by June, amid signs a campaign to improve risk controls may be making progress, the banking regulator reported.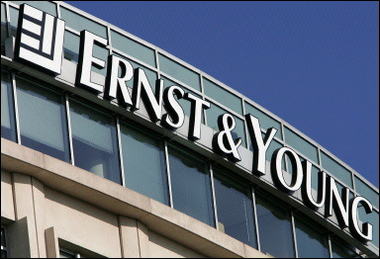 Global auditing firm Ernst and Young has withdrawn a report saying China's non-performing loans (NPLs) totaled over 900 billion dollars, apologizing for what it called an "erroneous" publication. [AFP/File]


The nonperforming loan ratio for all banks was 8.6 percent at the end of 2005 and 8 percent by the end of March, the China Banking Regulatory Commission said in a report seen Tuesday on its Web site.

Banks have come under increasing pressure to cut lending to projects deemed redundant or financially risky as the government attempts to reduce excess investment that it says could spark a financial crisis.

"The regulator keeps a close watch on curbing growth in potential bad loans and is avoiding lending to certain overheated industries," it said.

The total value of bad loans fell to 1.28 trillion yuan ($160.6 billion) by the end of June, down 3.6 percent from the end of last year, the report said.

Bank of Communications (BoCom), the mainland's fifth-largest lender, said yesterday its net profit for the first half amounted to 6 billion yuan, (US$750 million), up by 31 per cent year-on-year, driven by the strong growth of loans.

However, there was a marked gap between state-owned banks, whose nonperforming loan ratio was 9.5 percent, and newer joint stock banks, whose NPL ratio stood at 3.1 percent, it said.

Global auditing firm Ernst and Young in May estimated that the Chinese financial system was exposed to 900 billion dollars in bad bank loans but later retracted its opinion.

The withdrawal came after China's central bank said the report, which claimed the NPLs stood at 358 billion dollars for the big four state-owned commercial banks alone, "seriously distorted" the actual situation.

Fitch Ratings had said in May that China's banking system still contained about 476 billion dollars in nonperforming and problem loans.

"Although no one can know for sure, China's banks and instrumentalities are probably sitting on a trillion dollars of doubtful loans at this moment," Gordon Chang, a China expert and author of "The Coming Collapse of China," told the hearing of the US-China Economic and Security Review Commission, which is financed by the U.S. Congress.

He warned that "a bank failure in the next few years is possible, if not likely" and that China's banks, "almost without exception, are hopelessly insolvent from a balance sheet point of view.

"Chinese banks are blowing up their balance sheets at unprecedented rates," he said, adding that banking failure would "almost certainly lead to a collapse of the economy" and cause the political system to be even more fragile.

Chang also said that China was burdened by much debt. China's debt to gross domestic product (GDP) ratio is 18 percent.

Petit of Standard and Poor's said China's overly rapid loan growth suggested "vulnerability to an eventual economic slowdown and to the emergence of a new wave of problem loans."

But he hastened to add that the Chinese government had the wherewithal to prop-up its banking system through additional capital infusions or purchases of troubled loans, if needed.

Even so, China's "critically weak banking system" placed a "massive contingent fiscal cost on the government," he said.

Petit noted that "overlap" between the Chinese government -- the main shareholder in the banking sector -- and banks and borrowers and the frequent rotation of Chinese Communist Party members through them was "inimical to the creation of arms-length relationships."

It is "likely to inhibit the creation of effective corporate governance practices alongside a culture of commercial banking," he said.

A 2005 survey by the Chinese central bank showed that more that 80 percent of non-performing loans could be attributed to such conflicts of interest and directed lending, he said.

China's banks have written off billions of dollars in irrecoverable loans and revamped their management to help improve their competitiveness ahead of a full opening of the banking sector to foreign competition later this year.

But experts warn the banks could face a rebound in bad debt if they fail to improve their risk management.

The commission said it uncovered 480 cases of illegal loans and other mismanagement in the first six months of this year, down from 569 cases in the first half of 2005.