BEIJING -- Growth in China's retail sales slowed a touch in July, but economists said a well-established trend of sturdy spending underpinned by fast-rising incomes remained intact.

The value of sales last month was 13.7 percent greater than a year earlier, the National Bureau of Statistics said on Monday.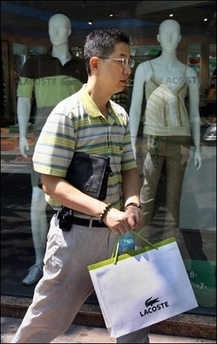 A Chinese customer leaves a store in the Huaihai Road shopping area of Shanghai earlier this month. China retail sales, the main indicator of consumer spending levels, rose 13.7 percent in July from a year earlier to 601.2 billion yuan (US$75.1 billion), official data showed. [AFP]
That was softer than June's 13.9 percent increase and undershot forecasts of a 14.0 percent rise. But economists cautioned against reading too much into the figures, saying a drop in consumer price inflation in July, to 1.0 percent from 1.5 percent in June, probably depressed the headline increase.
Kent Yau, an economist with Core Pacific-Yamaichi in Hong Kong, said the number was not bad.
"Obviously we want retail sales and consumer spending to be a bigger driver of the economy so that we can rely less on the investment side," he said.
Retail sales in the first seven months rose 13.4 percent from a year earlier. For all of 2005 they rose 12.9 percent and in 2004 they increased 13.3 percent.
"Income growth is strong, so retail sales should hold in fairly firm," commented Ben Simpfendorfer with Royal Bank of Scotland in Hong Kong.
Urban disposable incomes rose 10.2 percent in the first half from a year earlier, while rural incomes rose 11.9 percent.
But compared with investment, which jumped 31.3 percent in the first half of the year, household spending in China was low, said Li Mingliang, a senior analyst at Haitong Securities in Shanghai.
"China will continue to encourage domestic consumption, but it faces a tough challenge, mainly due to the difficulty of increasing farmers' incomes and the lack of a social welfare system in the rural areas," he said.
The government, determined to reduce the economy's reliance on exports and investment, is spending more on rural health and education, and at the start of the year it scrapped a 2,600-year-old agricultural tax.
The retail sales figures give only a partial picture of Chinese spending because they do not capture the service sector. Nor are the figures adjusted for seasonal changes in spending or deflated to show underlying volumes.