FUDING, Fujian Province -- Twenty people who were listed as missing have now been confirmed dead after Typhoon Saomai hit Fuding city of east China's Fujian Province. The confirmed death toll from the killer typhoon reached 134 on Sunday.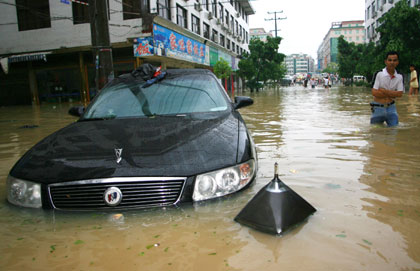 The streets of Lingxi town in Cangnan county, Zhejiang province, are still submerged August 12, 2006 after Saomai, the strongest typhoon in 50 years, landed and brought heavy rains. [Xinhua]
At least 163 others are still missing after Saomai, the strongest typhoon in China in half a century and now a tropical depression, lashed eastern provinces including Fujian, Zhejiang and Jiangxi.
Fuding was the worst hit in Fujian Province, with 41 people dead. Houses have been flattened or damaged and many trees have been uprooted.
Chinese Vice Premier Hui Liangyu went to Zhejiang and Fujian provinces on Saturday and Sunday to inspect the rescue work and visit people who were traumatized by the disaster.
Hui said the search for the missing must continue and condolence of the victims' families must be conducted properly.
As of Saturday night, Fuding city reported 1,350 injured in the typhoon, and suffered economic losses valued at 2.5 billion yuan (312.5 million U.S. dollars), said Zhao Fangli, deputy head of the general office of the Fuding City Flood Control and Drought Relief Headquarters.
"Almost the entire village was flattened," said a villager from Baisheng Village which was home to more than 300 households.
Shacheng Township of Fuding city lost more than 1,000 fishing boats to Saomai, which flattened half of the town's 8,000 households.
East China's Jiangxi Province reported two deaths from the typhoon as of Saturday.
The provincial meteorological department said the rainfall in two counties in Jiangxi was over 200 millimeters from Thursday to Friday and in 11 counties it rained more than 100 millimeters.
The provincial flood control and drought relief headquarters said altogether 980,000 people from the cities of Fuzhou, Nanchang, Yichun and Shangrao were affected by the downpour-triggered disasters.
Saomai destroyed six small reservoirs in Jiangxi and has cost the province 348 million yuan (about 43.5 million U.S. dollars) in economic losses.
Six people in Lishui City in east China's Zhejiang Province were killed in a landslide that was triggered by torrential rain, said Xiao Jianzhong, vice mayor of Lishui.
Eighty-one people are dead and 11 are reported missing in Wenzhou, a booming port city of more than 1 million people which received the brunt of the typhoon.
At least 2.1 million people have been affected and 18,000 houses destroyed in Zhejiang. The downpour has swamped 56 provincial roads and national highways.
In Zhejiang, the typhoon caused losses of 4.89 billion yuan (611 million U.S. dollars). The number of people left homeless has not yet been estimated.
Saomai, the eighth typhoon in China this year, slammed into Cangnan County of Wenzhou City at 5:25 p.m. Thursday. It was downgraded to a tropical depression by 11 a.m. Friday.