China's southeast braced for more torrential rain on Saturday after Typhoon Saomai slammed into the region, killing 105 people and leaving another 190 missing.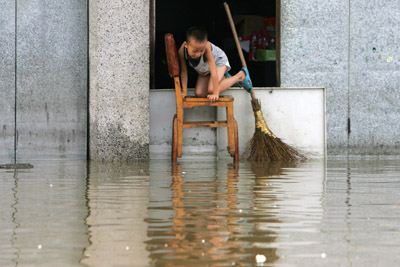 A boy look at a flooded street after a typhoon in Cangnan, south China's Zhejiang province August 11, 2006. Typhoon Saomai, the most powerful typhoon to hit China in five decades, raged across the southeastern coast Thursday, claiming at least 111 lives as it capsized ships, destroyed buildings and forced 1.5 million people from their homes. [Reuters]


More than 20,000 soldiers and paramilitary police were mobilized for relief efforts after Saomai, the strongest storm to strike the country in 50 years, blacked out cities and wrecked more than 50,000 homes.

Saomai weakened to a tropical depression on Friday but was expected over the weekend to drench a swath of China's south stretching from the coastal provinces of Zhejiang and Fujian to the poor inland provinces of Jiangxi and Anhui.

More than 1.6 million people were evacuated from the path of Saomai before it struck late Thursday with winds gusting up to 170 mph, the official Xinhua News Agency said.

But it weakened to a tropical storm Friday morning and by midday the Hong Kong Observatory said its winds had fallen, dropping it to tropical depression status.

Authorities reported 104 deaths Thursday and Friday and one more death on Saturday.

Hardest-hit was Wenzhou, a coastal city where at least 81 people were killed and 11 were missing, the official Xinhua News Agency said.

On Wenzhou's outskirts, 43 bodies including those of eight children were found in the debris of collapsed houses, Xinhua said. News photos showed relatives weeping over bodies covered in sheets and quilts.

It said Wenzhou suffered $560 million in damage, including more than 18,000 flattened houses.

Torrential rains were forecast over the weekend in a swath of China's south stretching from coastal Zhejiang and Fujian inland to the poor rural provinces of Jiangxi and Anhui.

Much of that region was still recovering from Tropical Storm Bilis, which killed more than 600 people last month, many of them in mountain villages and other inland areas.

Saomai, the Vietnamese name for the planet Venus, was the eighth major storm to hit China during an unusually violent typhoon season. It killed at least two people in the Philippines and dumped rain on Japan, Taiwan and Hong Kong. Airlines canceled hundreds of flights.

In China, deaths were reported in Zhejiang province, where Wenzhou is located, and in neighboring Fujian province to the south.

More than 32,000 houses were wrecked in Fujian, Xinhua said. The government didn't immediately announce statistics on damage to housing in Zhejiang outside of Wenzhou.

State television showed cars flipped over on rain-slicked streets, fallen trees and broken road signs. Exhausted evacuees sat in public buildings waiting out the storm.

Ahead of the storm, about 1 million people were evacuated from flood-prone areas of Zhejiang and 620,000 from Fujian, according to the government.

Late Friday, the government announced that it was allocating $21 million in disaster aid to regions hit by Saomai and other recent weather disasters.

Last week, Typhoon Prapiroon battered Guangdong province and the Guangxi region on China's southern coast, killing at least 80 people.

Chinese Vice Premier Hui Liangyu, also head of the state flood control and drought relief headquarters, "urged governments to prevent more floods and landslides, restore electricity and communication links and open roads as soon as possible," Xinhua said.

Saomai was the most powerful typhoon to hit China since a storm on Aug. 1, 1956, that had winds up to 145 mph, Xinhua said. It said that typhoon killed 4,900 people in Zhejiang.