China and India last month reopened crossborder trade through the Himalayan Nathu La Pass, but trade is running at a "low level" and was "not ideal," a Chinese official said Thursday.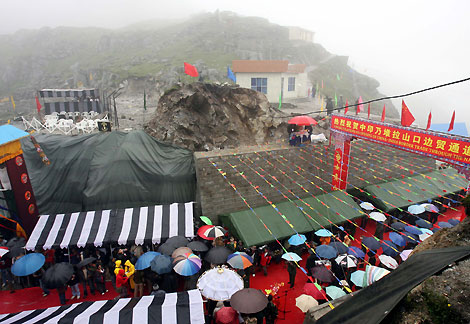 A general view showing the Nathu La mountain pass, between Tibet and the tiny northeastern Indian state of Sikkim, July 6, 2006. Asian giants India and China opened a Himalayan pass to border trade on Thursday, 44 years after a brutal frontier war shut down the ancient route. [Reuters]


"India has unilaterally imposed restrictions on trade through Nathu La," said Hao Peng, vice chairman of the Tibet Autonomous Region, when meeting with a visiting Indian media delegation in the regional capital of Lhasa.

Hao said that India authorizes the export of only 29 items from India to China, and a mere 15 items permitted to enter the Indian market from China.

When China opened a trade mart at Renqinggang, some 16 kilometers from the Nathu La Pass, India opened the Changgu mart in neighbouring Sikkim. However, while Indian business people can stay at China's Renqinggang mart, Chinese traders cannot spend the night at the Indian mart, Hao said.

China and India reopened border trade through the Nathu La Pass on July 6, 44 years after a border conflict closed down the ancient "Silk Road". The Nathu La Pass sits 4,545 meters above sea level and is wedged between Yadong County in Tibet's Xigaze Prefecture and India's Sikkim State.

Previously, more than 90 percent of trade between China and India transited by sea, and via Tianjin -- a port city some 120 kilometers from Beijing but nearly 4,400 kilometers from Lhasa.

With the reopening of the Nathu La Pass, it is only 1,200 kilometers by land from Lhasa to Calcutta, a major Indian coastal city.

Analysts consider the reopening of the trade route to be an important development in Sino-Indian relations and expect the two sides to develop political trust as well as trade and economic relations.

The pass will help shape a major land trade route linking China with South Asia and reduce transportation costs, according to Liu Jiangyong, an international studies specialist with Qinghua University in Beijing.

"Trade at the Renqinggang mart is currently less than 100,000 yuan (12,500 U.S. dollars) per week, far less than we had expected," Hao said.

China does not impose any restrictions on crossborder trade except for illegal items, and hostels have been built to accommodate Indian traders, he said.

"I hope the Indian government will adopt a more egalitarian approach to crossborder trade with China," he said.

The Indian delegation head, Ranjan Roy, editor of The Times of India, a major Indian newspaper, said that India might have some concerns about low-price Chinese products flooding the Indian market. He suggested the two governments communicate more with each other on this issue and work out common solutions.

"I can sense China's enthusiasm to promote border trade with India. Given the remarkable potential, the two sides should deepen their cooperation on the issue," he said.

Trade through the Nathu La Pass accounted for 80 percent of total crossborder trade between China and India in the early 1900s. But after their border conflict in 1962, the two countries closed their customs points at the former border markets and the trade route became a tightly guarded frontier with barbed wire.

In the final years of the 20th century, Sino-Indian relations began to thaw, and in 2003 the two countries agreed to reopen markets at the Nathu La Pass.

China approved plans to build a border market in Yadong last year.

During Premier Wen Jiabao's visit to India last year, the two countries vowed to establish a strategic partnership in the interest of peace and prosperity.

China and India recorded 18.73 billion U.S. dollars of trade last year,up 37.5 percent year-on-year, according to the Chinese Ministry of Commerce. The figure is expected to exceed 20 billion U.S. dollars this year.

The year 2006 has been designated the year of Sino-Indian friendship.