Saomai lands in E. China, 2 dead
HANGZHOU -- Typhoon Saomai, the eighth to hit China this year, made landfall in Cangnan County, east China's Zhejiang Province, at 5:25 p.m. Thursday, said the provincial meteorological observatory.
The typhoon is lashing Cangnan with gales and rainstorms, and has already toppled more than 1,000 houses, cut 97 percent of power lines in the county and 40 percent of local communication links.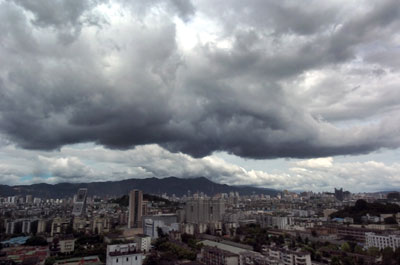 Clouds gather over Fuzhou, east China's Fujian province August 10, 2006 as Saomai, the strongest typhoon in 40 years, is to land later in the day. [Xinhua]
Over 80 people have been injured, according to local sources, and 20,000 hectares of rice fields had been inundated. 30 millimeters of rain fell in the space of just one hour.
Affected by the super typhoon, the neighboring Fujian Province reported two deaths and 12 others are missing.
The maritime department said the two dead were from the city of Fuding but their identities still remained unknown.
Strong wind also made two ships from Taiwan capsize on the sea near the city's Shacheng Harbor, leaving altogether eight Taiwanese missing.
Also in this area, another fishing boat from Fujian was reported having stricken a reef and the whereabouts of four people aboard are unknown, said the department.
At least 1.33 million people in China -- 760,000 in Zhejiang and about 571,000 in Fujian -- have been evacuated, from the path of Typhoon Saomai, which has upgraded to extremely powerful.
The eye of the typhoon had a wind velocity of 216 km per hour when it landed, said the observatory. "It is the strongest typhoon landed in southeast China in the last 50 years," said Xi Jinping, Communist Party secretary of Zhejiang Province.
Li Yuzhu, head of the Zhejiang provincial observatory, said Wednesday, "Saomai has outpaced forecasts and outrun the powerful Typhoon Rananim that claimed 164 lives in Zhejiang in August 2004."