Daily Xinfu reports ordered - MOH
(Xinhua/China Daily)
Updated: 2006-08-10 06:52
The Ministry of Health yesterday demanded daily reports about the injectable Xinfu antibiotic, which has been linked to 7 deaths.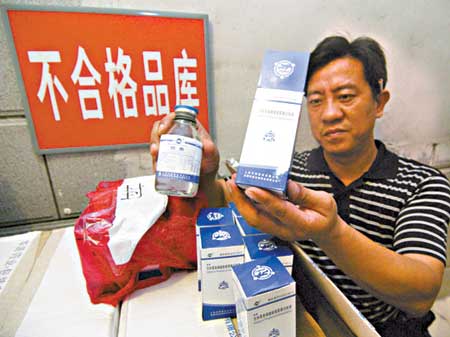 A health worker seals bottles of potentially hazardous clindamycin phosphate glucose in Loudi, Hunan Province. More than 1,300 bottles were impounded by local health authorities yesterday. [China Daily]
The ministry demanded that all provincial health departments report cases of adverse reactions to the clindamycin phosphate glucose injection by 4pm each day. The reports should cover the 24-hour period up to noon on the day of the report, according to a notice issued by the ministry.
The ministry is requiring medical institutions at all levels to report Xinfu-related cases to provincial drug monitoring centers and provincial health departments as quickly as possible.
The ministry banned use of the drug, produced by the Anhui Huayuan Worldbest Biology Pharmacy Co, a subsidiary of Shanghai Worldbest Co Ltd, on August 3.
Local health departments have been urged to take emergency control measures, and to supervise the implementation of the ban in all medical institutions.
"Officials will be held accountable if slack supervision of the recall and control work leads to more adverse reaction cases," the ministry said.
The antibiotic has been blamed for killing six people so far.
The six deaths were reported from the provinces of Hunan, Sichuan, Hebei, Heilongjiang, Shaanxi and Hubei.