At least 466,000 people, including 266,000 in Fujian and 200,000 in Zhejiang have been evacuated as Saomai, which has grown to a powerful typhoon, is approaching the coastal areas of the two provinces in east China.

Meteorologists said Saomai, the eighth storm to hit China this year, would probably land between Lianjiang of Fujian and Yuhuan of Zhejiang on Thursday noon or evening.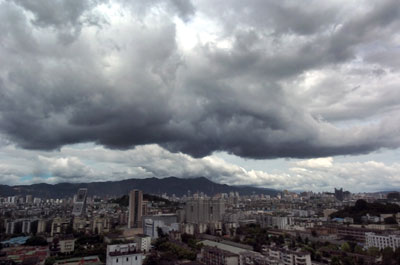 Clouds gather over Fuzhou, east China's Fujian province August 10, 2006 as Saomai, the strongest typhoon in 40 years, is to land later in the day. [Xinhua]


At around 11:00 p.m. on Wednesday, local observatory said, Saomai, which is the Vietnamese name for the planet Venus, was located at latitude 25.7 north and longitude 124.4 east, approximately 480 km southeast of Zhejiang's Wenzhou.

With winds recorded at 216 km per hour at its eye, the typhoon was moving northwest at a speed of 30 km per hour at midnight Wednesday. Forecasters from Zhejiang said Wenzhou would be under a head-on attack by the powerful storm.

The Central Meteorological Observatory (CMO) yesterday predicted Typhoon Saomai will make landfall in Fujian and Zhejiang provinces.

Saomai comes hot on the heels of Typhoon Prapiroon, which killed around 80 people in South China last week.

And as the typhoon nears, a weaker storm, Bopha, is closing in on the Guangdong coast.

"Saomai will affect regions south of the Yangtze River and coastal areas in Fujian Province," said CMO meteorologist Xu Yinglong.

The typhoon is expected to wreak further havoc as it moves northwest after landing, but Xu said the damage will not be as severe as the destruction wreaked by Typhoon Bilis, which caused hundreds of deaths in southern China last month.

Considering the distance between Saomai and Bopha, interaction between the two storms will not be as "mighty," meteorologists said.

Saomai, the eighth tropical storm to close in on China this year, was about 840 kilometres southeast of Wenzhou in East China's Zhejiang Province yesterday.

Local authorities in Zhejiang began evacuating residents as a combination of heavy rain, gusty winds and a high tide, all caused by Saomai, began assaulting the area.

Residents in mountainous areas around Wenzhou, Taizhou, Ningbo and Lishui were advised to beware of possible landslides, mud-rock flows, floods and other disasters, while schools were ordered to prepare for the storm.

Vice-Premier Hui Liangyu has urged meteorological observatories to keep a keen eye on the typhoon.

Gathering strength, Saomai was moving in a northwest-west direction between 25 and 30 kph, and expected to enter the East China Sea either last night or this morning.

It is expected to come ashore between noon and early this evening at the coastal areas between Wenling in Zhejiang and Changle in Fujian.

Due to the typhoon's influence, Zhejiang is likely to experience a combination of heavy rain, strong winds and high tides.

The Office of Flood and Drought Relief in Zhejiang has ordered all ships to return to harbour and warned sea-based businesses to prepare for potential losses.

In Taizhou, more than 7,000 fishing boats have sought shelter, an official with the city's anti-flood department said yesterday. In Ningbo, the number stood at more than 10,000.

"We have issued documents ordering all of those dwelling behind unsecured seawalls to be evacuated," said an official, surnamed Xu, from Ningbo's anti-flood department.