BEIJING- China does not cover up reports of adverse reactions linked to a banned antibiotic treatment, the Beijing News reported on Wednesday.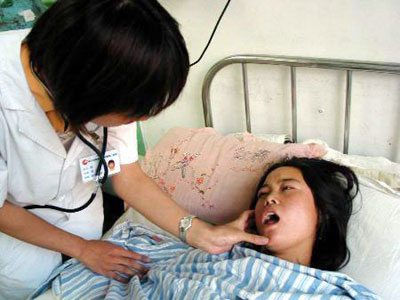 A doctor checks a patient suffering an adverse response to an injection of Xin Fu at the Harbin Medical University's Second Affiliated Hostipal August 3, 2006. [Xinhua]
Beijing last week banned the use of Clindamycin Phosphate Glucose Injection, produced by a company in the eastern province of Anhui for treatment of bacterial infections and linked to at least six deaths and severe adverse reactions in more than 80 patients.
The first notice of an adverse reaction to the drug was posted on the State Food and Drug Administration (SFDA) Web site on July 27, the paper said, but an emergency report banning the drug was not released until August 3.
"This talk is not objective, nor responsible," the Beijing News quoted SFDA spokesman Zhang Jixiang as saying.
"We reported as soon as it was suitable to inform the media and society. It was very timely."
Ten days after the first adverse reaction emerged, a link between the drug and patients' complications had not been confirmed, the paper said, a delay Zhang blamed on lengthy test procedures.
The latest health scare to dog China's top drug inspector has prompted a rebuff from Beijing.
The State Council, China's cabinet, issued a notice demanding drug inspection bodies make timely reports and announcing its intention to conduct a clean-out of China's drug market and stamp out "local protectionism," the paper said.
The use of fake and poor-quality products has killed dozens of people in China in recent years and has sparked widespread public fury about food and drug safety. Chinese media have blamed the frequent scandals on businesses obsessed with making profits and on lax official supervision.
Months earlier, local media exposed a bogus drug scandal that had killed 11 people in the southern province of Guangdong after they received injections of fake Armillarisni-A made by a Heilongjiang company, whose executives were detained and its license withdrawn.