Shuanghui: A meat processing giant in China
By Yu Nan (chinadaily.com.cn)
Updated: 2006-08-08 09:21
A pig can be processed up to 258 kinds of fresh meat products in Shuanghui Group, China's famous enterprise in meat processing. On August 7, 2006 China Brand Promotion Tour came to Shuanghui Industry Group in Luohe, the first stop in central China's Henan Province.

Luohe mayor Jin Kewen and Shuanghui Group's President Wan Long held a new conference and answered questions from the media about Shanghui and brand-building in Luohe, a city in south Henan Province.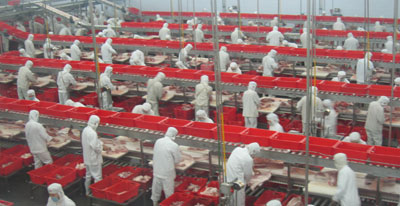 A meat-chopping plant in Shuanghui Meat Processing Group. [chinadaily.com.cn]
In the last twenty years Shuanghui made rapidly developments through the application of advanced technology and meat processing machines.
Its business turnover in 1990 topped 100 million yuan (US$12.5 million) for the first time and later in 1995, 2 billion yuan (US$250 million), and in 2000, reached 6 billion yuan (US$750 million), and in 2003, sales value stood at 12 billion yuan (US$1.5 billion) and its export turnover reached 70 million yuan (US$8.75 million). It turns to be the first meat processing industry enterprise with output and sale income over 10 billion yuan (US$1.25 billion).
When asked how Shuanghui has developed from a small meat processing factory on the verge of bankruptcy in the middle of the 1980s, Wan said, "Shuanghui puts a lot of efforts in innovation, especially in technology as well as production and marketing so as to rank the 1st in the meat processing field."

In order to improve traditional Chinese meat industry, Shuanghui makes efforts in absorbing innovated ideas in technology all over the world. It imported over 2,000 sets of the advanced meat processing machines from countries like America, Japan, Germany, and Netherlands.

"The PVDC meat processing lines employed by Shuanghui have been introduced from Japan," Wan said, "Japanese side originally told us that rate of output produced by the PVDC would be only 80%."
But the rate now has been improved to 98% by Shuanghui, and Shuanghui already has owned 21 PVDC product lines, accounting for nearly half of the PVDC lines for meat processing nationwide, he added.
It also established new model of operation by introducing from abroad the chilling chain management from manufacture to distribution to sale and chain management that improved the traditional sale and insure the consumer safe foods.