China urges Japan to halt war shrine visits
(Reuters)
Updated: 2006-08-07 14:32
China urged Japan on Monday to stop visits by its leaders to the Yasukuni Shrine for war dead, just days after a report that Shinzo Abe, the front-runner to become Japan's next prime minister had secretly paid his respects there earlier this year.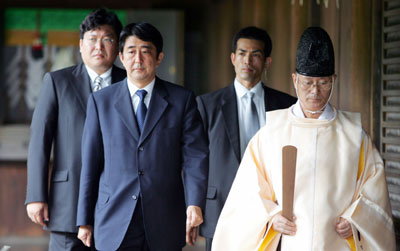 Shinzo Abe (2nd L), Japan's Chief Cabinet Secretary and front-runner to become Japan's next prime minister, is led by a Shinto priest as he visits the controversial Yasukuni Shrine in Tokyo to pay tribute to the war dead in this August 15, 2005 file photo. Abe made a secret pilgrimage earlier this year to the Tokyo war shrine seen by China and South Korea as a symbol of Japan's past militarism, media reports said on 4 August, 2006. [Reuters]
China, where many suffered under Japanese aggression before and during World War Two, has not specifically criticised the reported pilgrimage by Shinzo Abe, seen as the most likely candidate to succeed Prime Minister Junichiro Koizumi when he steps down in September.
"We want top Japanese officials to call an immediate halt to visits to Yasukuni, where Class A war criminals are enshrined," Chinese foreign ministry spokesman Liu Jianchao told reporters during a visit to Tokyo. "Dealing with the history problem based on a correct view of history will be to the benefit of both the Japanese and Chinese peoples," he added.
Yasukuni is seen by many in Asia as a symbol of Japan's past militarism. Fourteen wartime leaders convicted by an Allied tribunal as "Class A" war criminals are honoured there alongside 2.5 million war dead, and a war museum within the shrine grounds is often criticised as glorifying war.
"It may be that people mistakenly believe that China's attitude towards Yasukuni has changed in some ways," Liu said when asked why China had not issued an immediate condemnation last week. "In fact the attitude of the Chinese government and people to the history problem is consistent and has not changed."
Liu declined to speculate on the effect on bilateral ties if Abe takes over as premier next month.
"It is up to the Japanese people to decide who will be the next prime minister," Liu said. "China will welcome anyone who makes an effort to improve bilateral relations," he said.
Abe himself declined to confirm or deny the reported pilgrimage during a Monday news conference.
Liu emphasised the improvement in bilateral ties over recent months, following two meetings between the countries' respective foreign ministers and said China was willing to hold another such meeting, possibly in Beijing.