The central Afraican country of Chad has severed diplomatic relations with Taiwan, and switch its recognition and open official ties with Beijing.
And Chinese Foreign Minister Li Zhaoxing and his Chadian counterpart Ahmad Allam-mi signed a joint communique Sunday night to resume diplomatic ties between the two countries.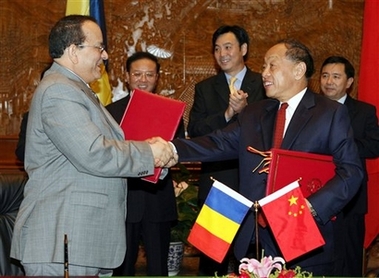 Chinese Foreign Minister Li Zhaoxing, right, and his Chadian counterpart Ahmad Allam-mi shake hands after signing a joint communique to resume diplomatic ties between the two countries in Beijing late Sunday, Aug. 6, 2006. [Xinhua]

"Under Beijing's influence, Chad has decided to restore diplomatic ties with China," Taiwan's "foreign ministry" spokesman Michel Lu told a press conference Saturday night

"To safeguard our dignity, Taiwan government has decided to cut off diplomatic ties with Chad and immediately suspended all of the aid projects to the country," Lu said.

Taiwan's ambassador to Chad was called into the foreign ministry in N'Djamena Saturday and informed that the government had decided to switch recognition "in the interest of the state," a Chadian foreign ministry official said.

China and Chad have agreed to resend ambassadors to each other's countries and provide convenience for the establishment and work of each other's embassies on an equal footing, it says.

According to the communique, the Chinese government supports the efforts made by the Chadian government to safeguard state sovereignty and develop economy.

"The Chadian government recognizes that there is only one China in the world and the government of the People's Republic of China is the sole legitimate government representing the whole China. Taiwan is an inalienable part of the Chinese territory," it says.

The Chinese government expresses appreciation for the above stance the Chadian government pursues, the communique says.

Following Taiwan's 1971 expulsion from the United Nations, successive Taiwanese regimes have spent millions of dollars in economic aid to persuade countries, mostly in Africa and Latin America, to support its battle against Beijing for international recognition.

As Beijing's global political and economic clout has grown, Taiwan has found it increasingly on the losing side of the diplomatic battle.

Chad is the seventh country to switch recognition to Beijing since Taiwanese leader Chen Shui-bian took office in 2000, following Senegal, Liberia, Macedonia, the Commonwealth of Dominica, Vanuatu and Grenada.

This latest setback for Taiwan means the island is now recognized by just 24 countries, mostly small states in Africa, Latin America and the Pacific.

Chad's move came only days before Taiwan "Premier" Su Tseng-chang was due to attend the inauguration of Idriss Deby for a third term as president. The trip has now been cancelled.