38 killed by Prapiroon, 14 missing
(China Daily/Xinhua)
Updated: 2006-08-05 08:29
GUANGZHOU -- The death toll in typhoon Prapiroon rose to 38, and 14 more remained missing in South China's Guangdong Province by midday on Saturday, local sources said.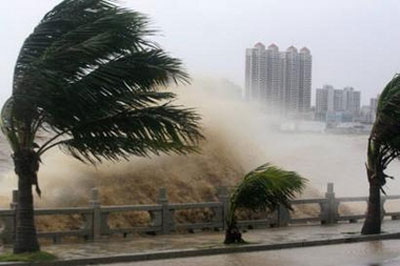 Waves crash against the guardrails of a pedestrian walkway in Zhuhai, south China's Guangdong province, August 3, 2006. Tropical Storm Prapiroon killed five people as it lashed south China with heavy rain and winds on Friday, after forcing the evacuation of nearly half a million and snarling transport links across the region. [Reuters]
Prapiroon brought along torrential rains in this southern Chinese province, with Taishan, Enping, and Yangchun being worst hit, affecting 3.72 million people. The direct economic losses are forecast at 2.4 billion yuan (US$300 million).
Detail of the damages is still under further investigation, said a spokesman from the Guangdong Provincial Office for Drought, Flood and Wind Control.
Typhoon Prapiroon made landfall at the coastal area between Yangxi County and Dianbai County in western Guangdong at 7:20 p.m. Thursday. With a speed of 33 meters per second, the wind power reached 12 degrees on the Beaufort Scale near its eye.
By Friday morning, Prapiroon's wind speed had dropped from typhoon level to tropical storm after it swirled into the Guangxi Zhuang Autonomous Region, just west of Guangdong, early Thursday morning and dumped rain in areas it swept through.
Prapiroon, which means Rain God in Thai, formed in the South China Sea and strengthened into a typhoon on Wednesday noon.
Tropical storm Prapiroon has killed 18 people and 7 others were still missing on Friday evening, according to the Ministry of Civil Affairs.
The tropical storm will move north-westward at 15 kilometres per hour and will lose strength gradually, according to the China Meteorological Administration.
It forecast that Prapiroon will bring stormy weather over the weekend across the coastal areas of Guangdong and Guangxi and to some parts of Fujian, Jiangxi, Hunan and Hainan provinces.