Chinese envoy to visit Lebanon, Israel to ease tensions
(AP)
Updated: 2006-08-04 15:33
China is sending an envoy on a five-nation tour of the Middle East with stops in Israel and Lebanon in an effort to reduce tensions in the region, the Foreign Ministry spokesman Qin Gang said Friday.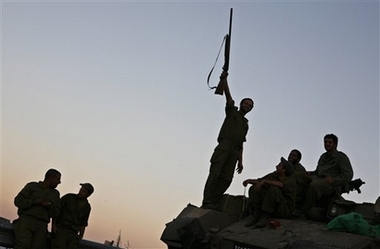 An Israeli soldier holds a rifle he said was captured from Hezbollah guerrillas, as troops return from southern Lebanon in northern Israel Tuesday Aug. 1, 2006. [AP]
Sun Bigan, China's special envoy on Middle East issues, will visit Syria, Lebanon, Israel, Egypt and Saudi Arabia from August 6, the ministry said in a brief statement posted to its Web site.
Sun will hold talks with his counterparts in each of the countries and "make earnest efforts to alleviate tensions in the Middle East region as soon as possible," it said. It did not say how long he would stay or with whom he would meet.
Sun will exchange views with different parties on regional issues, especially the situation in Lebanon, in a bid to help ease tensions in the region, Qin said.

Israel has intensified its air raids on Lebanese targets since launching a massive assault on July 12 after Lebanon's Hezbollah guerillas kidnapped two Israeli soldiers and killed eight in cross-border attacks.

The number of casualties continues to rise.

On July 25, during an Israeli offensive in southern Lebanon, a UN peacekeeping post was bombed, killing four UN observers from China, Finland, Austria and Canada.

On July 30, over 50 Lebanese civilians, most of them women and children, were killed in an Israeli air raid on the Lebanese village Qana.

Israel has so far not agreed to a ceasefire in its Lebanon offensive.