TOKYO: China and Japan must strengthen understanding and rebuild mutual trust to overcome the current difficulties plaguing their relations, said the Chinese ambassador to Japan yesterday.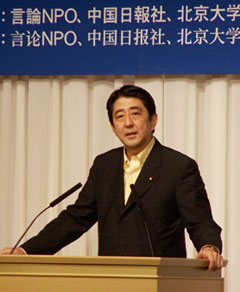 Japanese Chief Cabinet Secretary Shinzo Abe speaks at the Tokyo-Beijing Forum sponsored by China Daily, Peking University and the Japanese think tank Genron NPO in Tokyo August 3, 2006. [chinadaily.com.cn]

Ambassador Wang Yi's call for fresh efforts at improving ties came at the opening of the Second Beijing-Tokyo Forum.

About 90 officials and scholars from China and Japan are taking part in the two-day event, looking for ways to defrost the icy bilateral relations.

Improving Sino-Japanese relations has become a common aspiration for people in both countries, said Wang.

The souring of relations between Beijing and Tokyo owes much to Japanese Prime Minister Junichiro Koizumi's annual visits to the Yasukuni shrine, where convicted World War II war criminals are honoured along with Japanese war dead.

His visits, which began shortly after he took office in 2001, have led to top leaders of the neighbouring countries halting visits for the past five years.

China insists the shrine visits have undermined the political basis for bilateral relations and pose a big obstacle to improved ties.

"Facing up to history honestly and settling the current problems in a proper way would provide an opportunity and impetus to build a stable long-term relationship that looks to the future," said Wang.

He told the forum that if Tokyo decides to remove the political obstacles that have chilled the relationship, Beijing is sure "to respond with good will."

Japanese Chief Cabinet Secretary Shinzo Abe, the favourite candidate for Japan's next prime minister, said in a keynote speech that he personally wants a strong Sino-Japanese relationship.

"The China-Japan relationship is one of the most important bilateral relations," said Abe.

He attributed the current difficulty in bilateral ties to "misunderstandings" that have occurred between the two Asian giants.

To illustrate the stern situation, Abe cited some figures.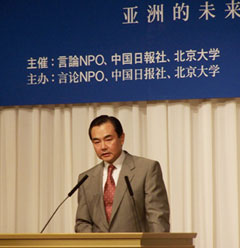 Wang Yi, Chinese ambassador to Japan, speaks at the Tokyo-Beijing Forum sponsored by China Daily, Peking University and the Japanese think tank Genron NPO in Tokyo August 3, 2006. [chinadaily.com.cn]

According to him, in 1980, 78 per cent of Japanese people had a positive attitude towards China, but this percentage had dropped to only 32 per cent some 25 years later. In China, only 15 per cent of the population now feel positively towards Japan.

"For me, these are shocking figures. We must build a China-Japan relationship that will encourage these figures to increase naturally."

He applauded the forum for serving as a venue for discussion, which is badly needed to make direct exchanges possible.

Wang said it is necessary for both countries to take their own road to peaceful development.

It is also imperative for the two sides to rebuild trust, which he said is as important to state-to-state relations as to person-to-person contact.

Wang expressed the belief that China and Japan can benefit from a better relationship. "It is a win-win deal," he said.

The future of Sino-Japanese relations is a matter of great significance, not just for the two nations, but for Asia and the world as a whole.

A better bilateral relationship is what Asian countries and the international community expect from China and Japan, he added.

Abe said that besides official efforts, more channels should be developed to find the solutions to the problems facing bilateral relations.

He said the Japanese Government has decided to invite 1,200 Chinese high school students to Japan this year. They will stay with Japanese host families so as to have the best possible experience of the country. Forty of the students will stay in Japan studying at high schools for a year.

Youth exchanges are of great importance to promoting a long-term friendship between the two countries, he said.

With the theme of building a new relationship oriented to Asia, the ongoing forum is open to ideas and proposals on removing the obstacles in the bilateral relations.

The annual event, jointly held by China Daily, the Peking University and Japanese think-tank Genron NPO, moved to Tokyo this year after its first meeting in Beijing last year.

Zhu Ling, editor-in-chief of China Daily, said media in the two countries could work together to help stabilize the nation's relations.

Objective, general and fact-based reporting will help Chinese and Japanese get a clear picture of each other, which is key to easing the current political stalemate, said Zhu.