A Chinese diplomat, amidst aspirations from the Chinese and Japanese people for better relations, on Thursday in Tokyo urged Japan to make a wise and unequivocal decision on bilateral relations, and China will respond accordingly.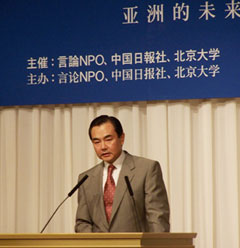 Chinese ambassador to Japan Wang Yi speaks at the Beijing-Tokyo Forum in Tokyo on China-Japan relations August 3, 2006. [chinadaily.com.cn]

Wang Yi, Chinese ambassador to Japan, made these remarks to the opening ceremony of the second Beijing-Tokyo Forum. The two-day forum is jointly organized by China Daily, Peking University and Japanese think tank Genron NPO.

He said Japanese politicians should have the courage to correctly treat history and properly handle all existing problems, and build a base for long-term stable relations. If the Japanese side makes such a decision, China will make a goodwill response.

The ambassador made a four-point proposal to improve bilateral relations:

First, efforts should be made to promote mutual understanding. The two countries should adhere to peaceful development.

Second, the two countries should overcome political difficulties. Japan should treat history issues in a correct manner and handle the currently existing problems properly to build a future-oriented, long-term and stable relationship. If the Japanese side makes unequivocal decision, China will respond accordingly.

Third, the two countries should build mutual trust. Good country-to-country relationship, just like person-to-person ties, need to establish and value mutual trust. The three joint political documents, including the Sino-Japanese Joint Declaration, have clearly stated the principles the two sides should follow.

Fourth, the two countries should conduct mutually benefiting and win-win cooperation. To improve China-Japan relations is also the expectation of other Asian countries and the whole world. The two sides should enhance their complementarities, seek mutual benefit and win-win cooperation, and help build a co-operative, harmonious and open Asia.

Japanese Chief Cabinet Secretary Shinzo Abe also spoke at the forum, saying great efforts needed to improve the chilled bilateral relations.

He cited some figures to illustrate the current situation of ties. More than 50 top government officials, leading experts and media executive are attending the forum discuss ways to promote mutual understanding and build new type of bilateral ties.

The theme of this year's forum is "Facing Asia's Future -- Building New China-Japan Relations". Participants from the two countries will have frank and in-depth discussion and exchanges on bilateral communications and cooperation, resources, energy and environment and rebuilding mutual trust.

This is the second forum. The first was held in Beijing in August last year.

Chinese President Hu Jintao, at his March meeting with the heads of seven Japan-China friendship organizations, said Beijing values the Sino-Japanese relations and regards it as one of the important bilateral relations in the world, and China has made unswerving efforts to improve the ties.

Hu offered talks with Japanese top leaders as soon as they make an unequivocal decision to stop visiting the Yasukuni Shrine.

The relationship between China and Japan has been chilled in recent years due to Japanese Prime Minister Koizumi Junichiro's repeated pilgrimage to the Yasukuni Shrine, which honors 2.5 million Japanese war dead, including 14 Class-A World War II criminals.

Leaders of the two neighboring countries have halted exchanges of visit for about five years, ever since Koizumi began paying homage to the controversial war shrine soon after he took office in 2001.