Tropical Storm Prapiroon strengthened into a full-blown typhoon on Wednesday, with forecasters warning of possible severe destruction to parts of southern China.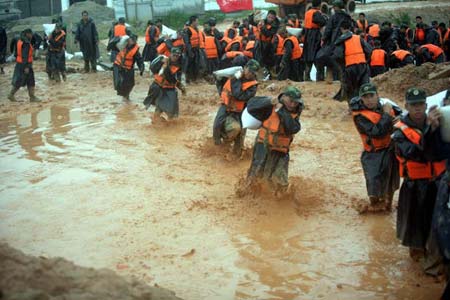 Soldiers repair the destroyed dam after Typhoon Kaemi in Jinjiang, East China's Fujian Province July 25, 2006. [Xinhua]
The storm had been steadily gathering strength while churning across the South China Sea from the Philippines, where six deaths were blamed on the severe weather and flooding.
South China's Hainan Island, about 373 miles southwest of Hong Kong, has been bracing for Prapiroon, expected to make landfall between Thursday night and Friday. All fishing boats have been ordered in to port and rescue teams told to prepare for flooding and landslides.
The storm is "as strong, if not stronger" than an earlier storm, Bilis, which sparked floods and landslides that killed more than 600 people in southern China last month, Gao Shuanzhu, a senior official at the China's national observatory was quoted as saying by the Xinhua News Agency.
By 8:00 p.m. (8 a.m. EDT), Prapiroon was centered 211 miles south of Hong Kong, which issued warnings to sailors amid scattered squalls. The Hong Kong Observatory warned of winds in the area gusting at up to 38 mph.
Prapiroon was packing winds of about 73 miles per hour at its center while moving northwest toward Hainan's northern coast at roughly 10 mph, according to the observatory.
By Thursday, the storm would build to gusts of 81 mph, the observatory said. It was due to blow hard through Friday, before continuing northwest into the Chinese mainland and weakening again into a tropical storm.
Strong winds and heavy rains were forecast from Thursday to Saturday for Hainan, China's southernmost island and a key tourist destination.
Philippine authorities said two other people were missing following lightning storms and flooding caused by Prapiroon. About 15,000 others were evacuated as parts of the northern Philippines remained inundated.
Prapiroon, named after the Thai rain god, is the region's eighth major storm of the season. It comes in the wake of last week's Typhoon Kaemi, which killed at least 35 people in China and left dozens missing in flooding and landslides.