A report from the People's Bank of China has warned that unrestrained lending growth will continue to fuel economic overheating unless it is controlled.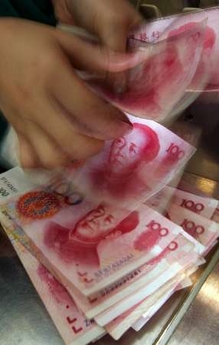 An exchange store staff counts Chinese RMB banknotes in Hong Kong May 16, 2006. [Reuters]

The report suggested measures to curb the excessive growth of total lending, starting with raising the reserve requirement of commercial banks by a 0.5 of a percentage point from August 15.

The measures also included more flexible open market operations, more emphasis on using interest rates as a leverage, and more policy guidance.

Despite the government's macro-economic controls and stringent monetary policy, money supply jumped rapidly, noted the central bank.

By the end of June, M2 supply surged by 18.4 percent year on year to 32.3 trillion yuan (4.1 trillion US dollars), and M1 supply by 13.9 percent to 11.2 trillion yuan, two percentage points higher than the same period last year.

M1 is an antecedent index for national economic performance, reflecting the change in the amount of money in the hands of residents and enterprises, while M2 shows the demand of the whole of society and indicates possible inflation.

Local currency lending at the end of June soared by 15.2 percent to 21.5 trillion yuan, two percentage points higher than the same period last year, said the central bank.

Inter-bank trading remained buoyant, and the inter-bank interest rate rose moderately along with the tightening of monetary policy, the report said.

Three factors contributed to the lending surge.

The booming economy had buoyed up credit demand, while commercial banks enjoyed abundant capital to lend due to increasing liquidity and the widening gap between savings and lending.

Thirdly, commercial banks were paying more attention to returns and earnings, thus having more incentive to lend in a bid to profit, said the central bank.