The body of Chinese UN observer Lt. Colonel Du Zhaoyu, who was killed last week during an Israeli air raid on Lebanon, was brought home on Wednesday morning.
Du's coffin, covered with the Chinese and UN flags, was carried from the plane by eight Chinese soldiers.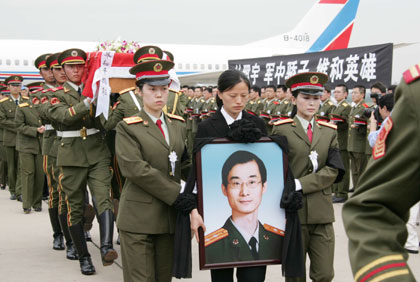 Li Lingling (C in black) carries a portrait of her late husband Du Zhaoyu, a Chinese UN observer stationed in southern Lebanon and killed in an Israeli air raid when Du's body was flown home August 2, 2006. [Xinhua]
His widow, Li Lingling, who had flown to Israel to bring his body home, walked in front of the coffin, holding a framed picture of Du.
Du called her on July 25 and told her he was reasonably safe in Lebanon just a few hours before the bombing, a friend of Du's family told Xinhua.
Du's parents and his son, who had his second birthday on Monday, waited at the airport. The little boy slept in a relative's arms as his father's coffin was lifted from the plane.
The Chinese People's Liberation Army (PLA) Assistant Chief of General Staff Zhang Qinsheng and China's Assistant Foreign Minister Cui Tiankai led a group of Chinese military and government officials at the airport.
Over 100 Chinese army officers in uniform and with their service caps in their hands stood to attention as Du's coffin was carried from the plane to a hearse.
A Lieutenant Colonel in the PLA, 34-year-old Du was sent to Lebanon last December as a UN observer.
He is also the eighth Chinese military staff to die in UN peacekeeping mission since 1988, when China joined the UN Special Committee on Peacekeeping Operations and started to participate in missions.
China sent the first UN observer to the Middle East in 1990, organized its first UN peacekeeping force in 1992, which was sent to Cambodia, and has sent peacekeepers to the Democratic Republic of Congo and the Republic of Liberia.
China is the largest peacekeeping force contributor of the five permanent members of the UN Security Council, and its forces have performed more than 5,000 tours of duty for UN peacekeeping missions. There are still 1,489 Chinese UN peacekeepers on duty in nine UN mission regions.
"China's peacekeeping activities will help implement its foreign policy and strategy, contribute to world peace and regional security," said Chen Zhou, a researcher of the Academy of Military Sciences.
The Chinese government has strongly condemned Israel's July 25 attack on the UN peacekeeping post in southern Lebanon, which also killed three other UN observers from Finland, Austria and Canada.
China has also demanded Israel carry out a thorough investigation into the attack and apologize to China and the victims' families.
Some 180 Chinese military officers and engineers as well as three observers, of whom Lt. Colonel Du was one, were working in southern Lebanon, as part of the UN peacekeeping mission, according to diplomatic sources.
Israel has expressed deep sorrow and regret over the incident, but denied it was deliberate.
Israel has intensified its air raids on Lebanese targets since launching a massive assault on July 12 after Lebanon's Hezbollah guerillas kidnapped two Israeli soldiers and killed eight in cross-border attacks.
So far Israel has rejected an immediate ceasefire in its Lebanon offensive.
UN Secretary General Kofi Annan on Sunday pledged to investigate the deaths of the four UN military observers, saying that questions still surrounding their deaths must be answered.