Gome aims to take over rival Suning - paper
(Reuters)
Updated: 2006-08-01 14:24
The chairman of top China electronics retailer Gome has said he wants to take over number-two player Suning, days after Gome announced a US$680 million deal to buy rival Paradise, a news report said on Tuesday.
Aggressive takeover approaches are rare in the Chinese corporate world, but they are becoming more common as increasing competition prompts consolidation in many industries, from retailing to steel production.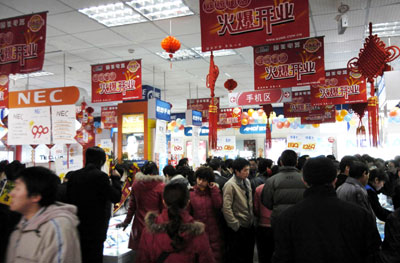 Consumers shop at a newly opened Gome store in Lanzhou, Northwest China's Gansu Province in this photo taken on January 1, 2006. [Xinhua]
"Gome and Paradise will maintain our edge over Suning and keep the pressure up until it surrenders," 37-year-old Huang Guangyu, ranked China's richest businessman last year by the Hurun Report, was quoted as saying by the National Business Daily.
"We won't have much trouble with the acquisition. It's only a matter of time."
The newspaper said Suning Appliance Co. Ltd. was determined to resist any advances from Gome.
"We will fight a bloody battle to the end," Suning President Sun Weiming was quoted as saying.
Curt Lam, the Hong Kong-based head of Gome Corporate Finance and Development, declined on Tuesday to comment on the report.
Gome Electrical Appliances Holding Ltd. agreed last week to take over China Paradise Electronics Retail Ltd. in a stock-plus-cash deal valued at HK$5.268 billion.
If it goes through, the Gome-Paradise deal will create a chain with 625 outlets, including those run by Gome's parent of the same name.