Death toll in Kaemi-plagued areas rises to 35
(Xinhua)
Updated: 2006-07-29 09:07
The death toll from Typhoon Kaemi has risen to 35 on the Chinese mainland including six at a military barracks in east China's Jiangxi Province, with at least 72 others missing, local flood control sources said on Friday evening.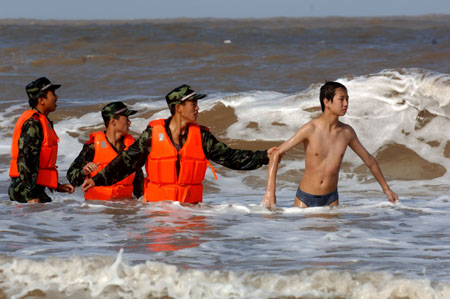 Chinese s oldiers evacuate a tourist from a beach in Wenzhou, east China's Zhejiang Province, July 25, 2006. [Xinhua]


Officials with the Jiangxi office of flood and drought relief have announced that the civilian death toll in the province has jumped to 20, with Kaemi provoking floods and landslides.

The number of people missing in Jiangxi is now 22. This does not include the 38 soldiers who went missing when their military barracks was swept away. The whereabouts of the soldiers is still not known.

Typhoon Kaemi, the fifth typhoon of the year, has also killed four people in Anhui and five in Guangdong since making landfall in southeast China's Fujian Province at 3:50 p.m. Tuesday. Five people were reported missing in Anhui and seven in Hunan.

Kaemi has affected a total of 6 million people in Fujian, Jiangxi, Anhui, Hunan and Guangdong since it unleashed continuous rainstorm which triggered flood and landslide. More than 1.3 million people from these provinces were forced to evacuate.